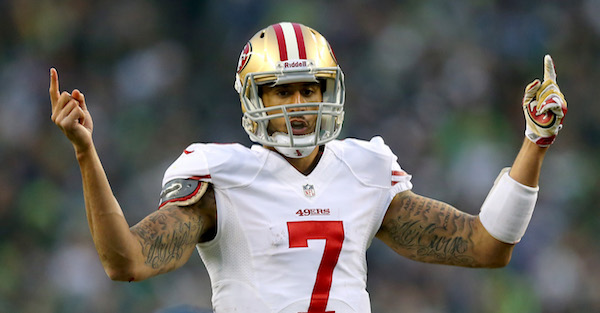 Ronald Martinez/Getty Images
SEATTLE, WA - JANUARY 19: Quarterback Colin Kaepernick #7 of the San Francisco 49ers under center in the first half against the Seattle Seahawks during the 2014 NFC Championship at CenturyLink Field on January 19, 2014 in Seattle, Washington. (Photo by Ronald Martinez/Getty Images)
Former 49ers quarterback Colin Kaepernick is still without an NFL job despite the fact that several players have come out and said there's no way that there are 64 players — starters and backups included — that are better than him at QB. Now he's decided that he is going to take action against the owners in the NFL for him not having a job right now as detailed by Mike Freeman of Bleacher Report:
Kaepernick may have a good case as there have been owners who have publicly spoken on the matter and said that they would not hire him like John Mara of the New York Giants while the Denver Broncos reportedly would not pursue him under any circumstances.
The former Super Bowl starter initially became what many are describing as a "distraction" when he started sitting for the national anthem at the beginning of last year. He did so to protest racism and for police brutality that he believes has gotten out of hand in this country. At the behest of former NFL long snapper and military veteran Nate Boyer, Kaepernick started to kneel to be more respectful.
Kaepernick actually opted out of his contract with the 49ers this year, likely in hopes of signing elsewhere. However, he has not been able to find work despite once leading the 49ers to the Super Bowl.
Kaepernick threw for 2,241 yards, 16 touchdowns and four interceptions during the 2016 season.