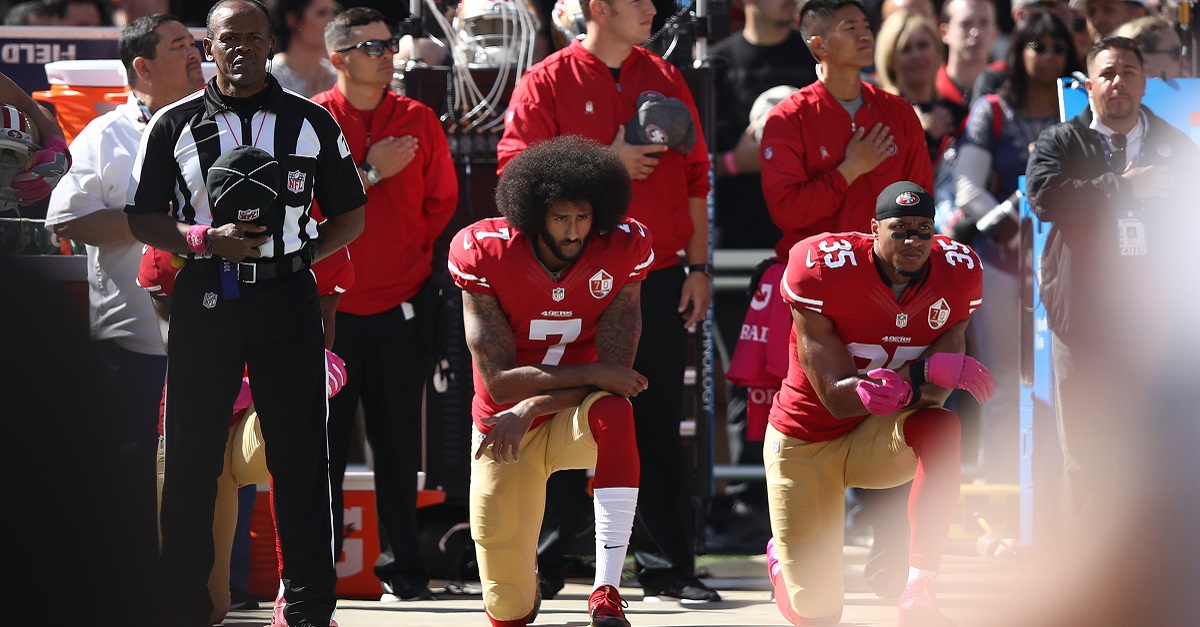 Ezra Shaw/Getty Images
SANTA CLARA, CA - OCTOBER 23: Eric Reid #35 and Colin Kaepernick #7 of the San Francisco 49ers kneel in protest during the national anthem prior to their NFL game against the Tampa Bay Buccaneers at Levi's Stadium on October 23, 2016 in Santa Clara, California. (Photo by Ezra Shaw/Getty Images)
Colin Kaepernick remains unsigned at this (very) late point in the NFL calendar and everyone has an opinion of some sort by this point. Recently, legendary San Francisco 49ers quarterback and current broadcaster Steve Young weighed in on things with Kaepernick in speaking to KNBR's Murph & Mac (as told by the Sacremento Bee) while doing press at the American Century Championship celebrity golf event in Lake Tahoe.
"Colin, I'd have to sit down with him, look him in the eye, see what he really wants to do, see how much work he has in him because if he wants to work — the guy can play."

"I'm surprised, even with the situation last year with the kneel-down during the national anthem, that people can't see through that and see, like here's a good player that wants to play and not toxic in the locker room … But he's gotta fit too."
Young's assertion that Kaepernick would not be "toxic" in the locker room is refreshing in today's NFL culture and that is an important note. There is little question that Colin Kaepernick is one of the 64 most talented quarterbacks on the planet today and, with that in mind, he should be on an NFL roster, even if as a backup.
Still, the situation is more complicated than that and it is playing out for all to see. By the sound of it, though, Kaepernick has something of a fan in Steve Young.