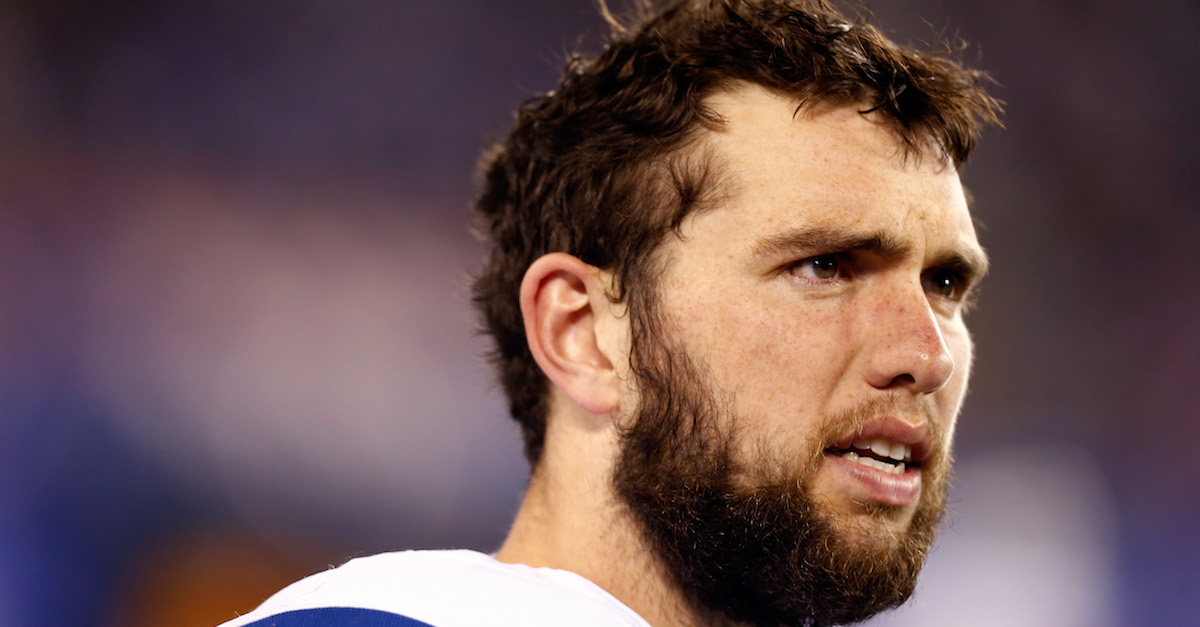 Jeff Zelevansky/Getty Images
EAST RUTHERFORD, NJ - NOVEMBER 03: Andrew Luck #12 of the Indianapolis Colts looks on against the New York Giants during their game at MetLife Stadium on November 3, 2014 in East Rutherford, New Jersey. (Photo by Jeff Zelevansky/Getty Images)
If you had Indianapolis Colts owner Jim Irsay going full Gary Busey to start 2018, you win a fictional prize. Also, why are you spending so much time thinking about Busey-related comparisons?
Irsay, who has spent a large portion of the season updating people on Andrew Luck's medical condition, used Monday as a place in space and time to get emotional about the quarterback.
By way of IndyStar Sports writer Zak Keefer, here are the real words Jim Irsay uttered:
I don't know what that means, but let's move on.
That is easily the 2018 front-runner for quote of the year. Mind you, those words were said on the literal first day of 2018.
Keefer, who has been on the beat for some time, would later note that he's never witnessed anything like that from Irsay during his five years covering the franchise.
Earlier in December, Chris Mortensen of ESPN reported that Luck might need bicep surgery, though he did note that would depend on how he felt after completing a throwing regimen. While only a potential surgery, it would be one completely unrelated to some of the other injuries the Colts QB has been dealing with, coming with a three-to-six month return timetable attached to it.
Again, at least at the time of this writing, the Mort report is only pending on Luck's medical status following some standard rehab. Obviously, Irsay believes whatever awaits Luck from a medical standpoint is something the signal-caller will overcome.