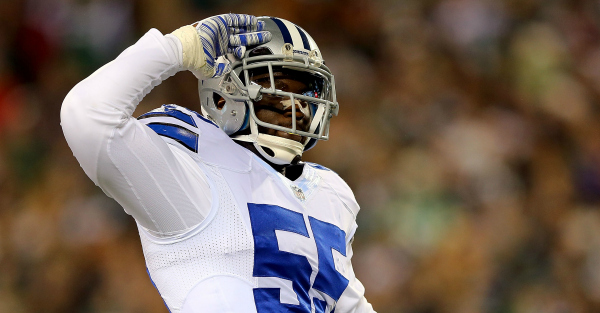 Elsa/Getty Images
Rolando McClain #55 of the Dallas Cowboys reacts during the game against the Philadelphia Eagles at Lincoln Financial Field on December 14, 2014 in Philadelphia, Pennsylvania. (Photo by Elsa/Getty Images)
The Cowboys have moved into their practice facility, but something is missing and it could tell a lot about one player's future.
The Dallas Morning News reports linebacker Rolando McClain doesn't have a locker at the facility. McClain is suspended for the first 10 games this season due to a violation of the NFL's substance abuse policy, but he didn't show up for preseason camp and didn't participate in much of the Cowboys' offseason programs.
RELATED: Rolando McClain reportedly has gained 40 pounds, and his situation is worse than we imagined
What's telling about the lack of a locker is that Randy Gregory does have one. Gregory, a defensive end, is in a drug treatment program and did not report to camp either.
Gregory is suspended for the first four games this season, and the NFL could suspend him for additional games because he failed another drug test before the start of camp. By giving Gregory a locker, Dallas appears to show it has faith he'll join the team sometime this season.
McClain was suspended for the first four games of last season and returned to the Cowboys on a one-year contract. He'll miss more than half of the team's games despite making $1.25 million contract.
Cowboys officials have not commented about either McClain or Gregory's future with the organization.