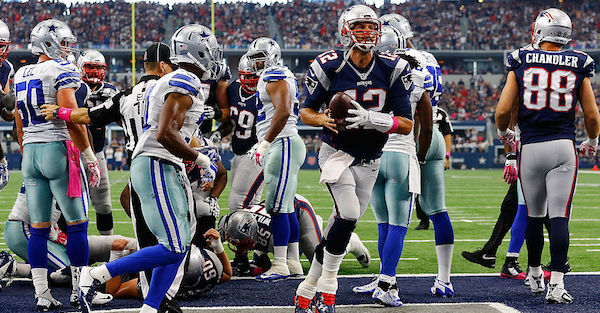 Mike Stone/Getty Images
ARLINGTON, TX - OCTOBER 11: Tom Brady #12 of the New England Patriots runs for a touchdown against the Dallas Cowboys during the first half of the NFL game at AT&T Stadium on October 11, 2015 in Arlington, Texas. (Photo by Mike Stone/Getty Images)
Pro Football Focus listed its top 50 players in the NFL entering the 2017 season, and the list was littered with five players from one Super Bowl contender.
The New England Patriots? Nope. The Seattle Seahawks? Wrong. The Pittsburgh Steelers? Try again.
The Dallas Cowboys had five players on the PFF top 50 list. Five. That's 10 percent of the entire list. Dallas finished 13-3 in 2016, and they return a plethora of talent for next season.
Related: Cowboys coach Jason Garrett responds to Dez Bryant's recruitment of one of the top remaining free agents
The players that made the list are linebacker Sean Lee at No. 48, running back Ezekiel Elliott at No. 45, offensive guard Zack Martin at No. 34, offensive tackle Tyron Smith at No. 21, and center Travis Frederick at No. 15.
The Cowboys' offensive line was the best in the league last season, and it shows after placing three players on the list. The line should be a dominant force again, and Elliott is in line for another big season running behind that line.
Lee was the only member of the defense on the list, and he finally had a healthy season in 2016. If he can stay healthy, he is one of the best linebackers in the league.
The Patriots and Seahawks each had four players on the list. Los Angeles Rams defensive lineman Aaron Donald was the No. 1 player on the list.
(h/t Dallas Morning News)