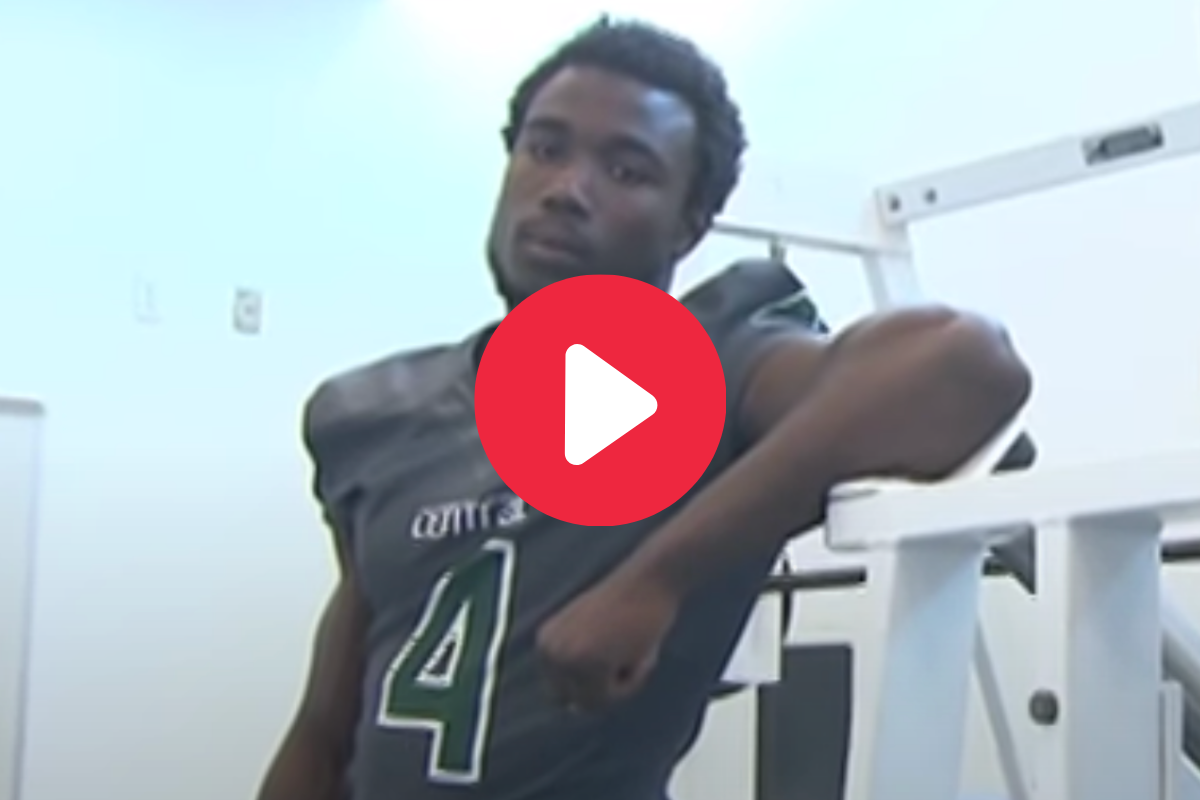 Screenshot from YouTube
When Dalvin Cook is healthy, he is as explosive as any running back in the entire NFL. His professional career has been fantastic, but he originally made himself known during his time playing high school football.
The Miami-Dade County native has a long track record of success, dating back nearly a decade.
Dalvin Cook in High School
Dalvin Cook attended Miami Central High School and played on the varsity football team for three years. Miami Central was the same school that Atlanta Falcons and New York Giants running back Devonta Freeman attended, so their fans have grown accustomed to an excellent offense.
Believe it or not, he was actually a linebacker before switching to the offensive side of the ball. These highlights prove that the switch was a great one. Whether it was between the tackles or to the outside, Cook was an unstoppable rusher.
During his time as a member of the Rockets, Cook accumulated 4,267 rushing yards and 64 touchdowns. His team won the state championship game in 2013, and during his senior year, Cook received a long list of accolades.
He was named to the First Team of Florida's Class 6A conference, won the Mr. Florida Football award, and made appearances at the Under Armour All-America Game and the Nike summer showcase.
Cook was also named to USA Today's All-USA football team and earned a four-star prospect designation from ESPN. It was clear that he had a future in football.
Dalvin Cook at Florida State
RELATED: Dalvin Cook?s 70-Yard TD Made Clemson Look Like a JV Team
After months of deliberation, Cook joined Jimbo Fisher and the Florida State Seminoles.
Cook was originally committed to play for FSU's ACC rivals, the Clemson Tigers, but decided against joining Dabo Swinney's roster. He also was committed to the Florida Gators as well.
The running back made his collegiate debut against Syracuse and never looked back.
In three excellent seasons, he totaled 5,399 yards from scrimmage and was named a First-Team All-American twice.
Though the Seminoles never reached the College Football Playoff during his tenure, Cook was not the reason why. After his junior year, he was ready to go pro.
Dalvin Cook on the Minnesota Vikings
Dalvin Cook was selected by the Minnesota Vikings in the second round of the 2017 NFL Draft.
A torn ACL ended his rookie season after just four games, but he has only gotten better since. Thanks to 1,135 rushing yards and an additional 519 receiving yards, Cook was named to his first Pro Bowl in 2019.
In this crazy, COVID-19-afflicted season, Cook has emerged as a dangerous threat out of Minnesota's backfield and has legitimate MVP aspirations.
Guys like Christian McCaffrey and Alvin Kamara may have more accolades in their careers so far, but Dalvin Cook could emerge as the best rusher from the 2017 class when all is said and done.
After watching his high school highlights, was there ever any doubt he'd succeed?