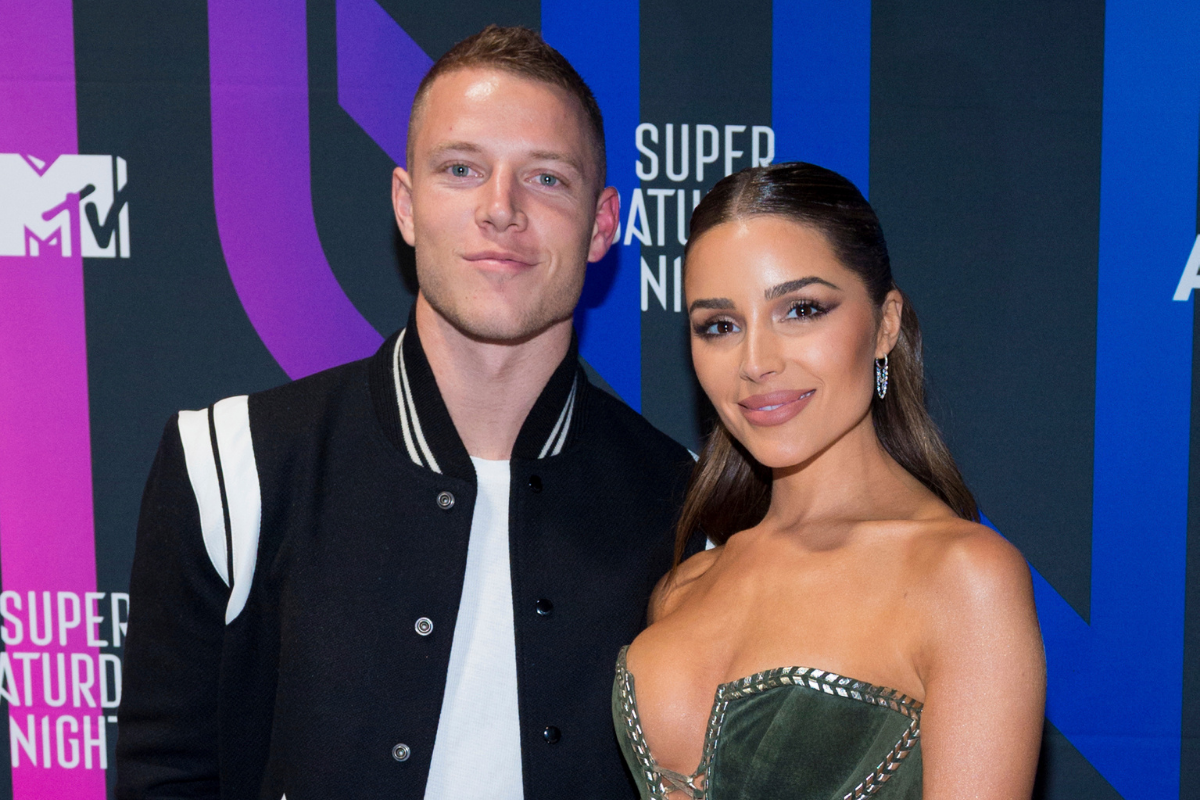 Photo by Scott Roth/Invision/AP
Christian McCaffrey might not be a household name just yet. At least not in the way that Tom Brady and Aaron Rodgers are. But that's about to change for the Carolina Panthers running back who received a fat stack of cash after putting together one of the great all-time seasons from a running back in NFL history.
The 24-year-old and 2017 first-round NFL Draft pick, who had one of the greatest college football careers ever at Stanford, has already accomplished so much in just four seasons playing for the Panthers.
"Run CMC" has already has a Pro Bowl and First-Team All-Pro selection under his belt and became just the third player to ever tally 1,000 rushing yards and 1,000 receiving yards in a season.
But the Colorado native and Valor Christian High School graduate's biggest catch may be his girlfriend, former Miss Universe Olivia Culpo.
Christian McCaffrey's Girlfriend Olivia Culpo
Olivia Culpo was born in Cranston, Rhode Island, and won Miss Rhode Island USA in 2012 — the first time she ever entered into a pageant. Months later, she won Miss USA 2012 and eventually did the same in the Miss Universe pageant in December 2012.
Of course, Culpo's social media presence blew up following her Miss Universe win. The 27-year-old queen of Instagram currently has 4.8 million followers on the app and posts just about every waking detail of her life.
That includes her boyfriend, Christian McCaffrey. The two reportedly began dating in May 2019 and were spotted vacationing in Mexico that summer.
The power couple have since gone public with their relationship. They posted pics of each other on Instagram during Valentine's Day 2020. Culpo painted her nails Carolina Panthers colors in true No. 1 fan fashion to support the football player.
RELATED: Aaron Rodgers Quickly Found Love Again With a Hollywood Actress
McCaffrey enjoys shining the spotlight on his girlfriend, too. He congratulated her on his Instagram story for her Sports Illustrated Swimsuit photoshoot, a dream of hers since she was little.
She Popped Champagne When He Got Paid
Olivia Culpo had been quarantining with her sister and Christian McCaffrey's family during the coronavirus pandemic.
When the Carolina Panthers gave McCaffrey a four-year, $64 million extension in April 2020 — making him the highest-paid running back in pro football — Culpo wasted no time celebrating.
The social media mogul worth $7 million herself popped open a bottle of champagne during a fancy dinner at home. Cheers!
Olivia Culpo's Impressive Dating History
Olivia Culpo has quite the list of ex-boyfriends or dating buddies or whatever you want to call them, but it appears she has a thing for athletes.
Most recently, she dated former New England Patriots wide receiver and two-time Super Bowl champion Danny Amendola. They spent parts of three years together but things went south when Amendola was spotted with another woman in Miami.
That break-up culminated with some nasty posts to social media, like the NFL star's trending rant in which he called her "f***ed up" and disliked her Hollywood celeb lifestyle. What makes this even wilder is that Amendola posted a picture with McCaffrey's ex-girlfriend Brooke Pettet. Talk about petty.
Tim Tebow and Culpo were reportedly an item for just a couple months in 2015. Before Tebow met his wife and another former Miss Universe winner, Demi-Leigh, he and Culpo spent time together.
Tebow gushed over the pageant winner, but apparently wasn't her speed, though. He wanted to wait until marriage and she, uh, didn't, according to the Los Angeles Times.
Apparently she has a thing for… Christians. Get it? I'll see myself out.
That isn't all the names in Culpo's ex-boyfriend folder. She dated singer Nick Jonas for some two years and was even rumored to have a fling with Olympic swimmer and world-record holder Ryan Lochte back in 2012.
Culpo and her Stanford Cardinal alum boyfriend at least appear happy. Let's just hope it doesn't end the way it did between her and Amendola.
Sports Illustrated Swimsuit Edition
Gracing the cover of the Sports Illustrated Swimsuit Edition is among the most coveted roles in modeling. Olivia Culpo finally got the call.
Joining Jasmine Sanders and Kate Bock, who is the girlfriend of NBA star Kevin Love, the trio joined forces on the SI Swimsuit cover for the 2020 edition.
While they are all on one cover together, each woman got her own swimsuit edition cover in a ground-breaking release by the New York-based magazine.
This article was originally published April 15, 2020 before updating.