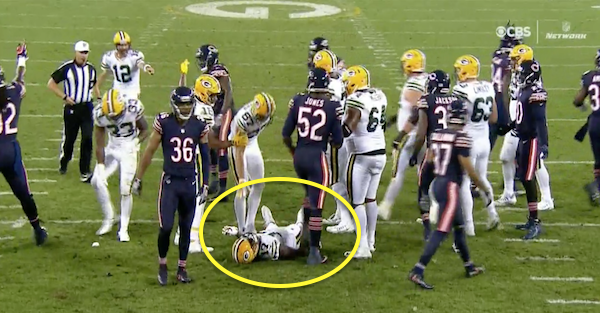 Clippit screenshot
During Thursday night's game between the Chicago Bears and the Green Bay Packers, Bears linebacker Danny Trevathan dealt an incredibly questionable and dirty hit on Packers' Davante Adams in the third quarter after a short pass.
Trevathan has now been suspended for two games:
?Danny Trevathan of the Chicago Bears has been suspended without pay for two games for a violation of safety-related playing rules in Thursday night?s game against the Green Bay Packers.
NFL Vice President of Football Operations Jon Runyon issued the suspension for a violation of Rule 12, Section 2, Article 6 (i) which states that ?there shall be no unnecessary roughness. This shall include, but will not be limited to: (i) using any part of a player?s helmet or face net to butt, spear, or ram an opponent violently or unnecessarily.?
Trevathan will be eligible to return to the Bears? active roster on Monday, October 16 following the team?s October 15 game against the Baltimore Ravens.
Under the Collective Bargaining Agreement, the suspension may be appealed within three business days. Appeals are heard and decided by either Derrick Brooks or James Thrash, the officers jointly appointed and compensated by the NFL and NFLPA to decide appeals of on-field player discipline.?
The reaction to Trevathan's hit was swift after the play happened:
Adams was knocked out of the game for the hit, and he wound up spending the night in the hospital due to a concussion. He was eventually released on Friday morning.