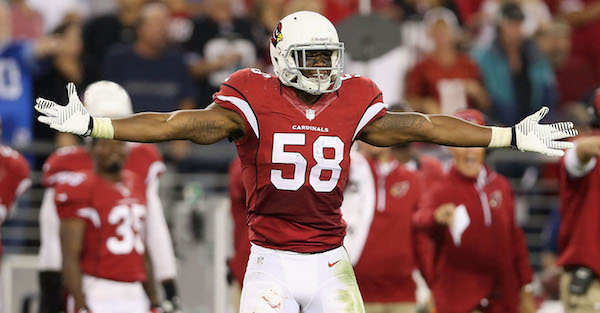 Christian Petersen/Getty Images
during the NFL game at the University of Phoenix Stadium on October 17, 2013 in Glendale, Arizona.
If you asked Daryl Washington about his love for the Dallas-Fort Worth area, he would try desperately to find a way to express it ? as long as it doesn't require putting on a set of pads again.
Washington, who attended Irving High School in Irving, Texas and played at TCU, was released this past spring by the Arizona Cardinals after being reinstated by the NFL. Washington had been suspended since May of 2014 after he violated the NFL's substance-abuse policy.
He previously hinted at the possibility of joining the Dallas Cowboys due to their defensive scheme and how he'd fit, but now he's changed his tune.
Washington told 247Sports he has no interest in returning and will settle for retirement. Washington spent four seasons in the NFL, all with the Arizona Cardinals, who selected him in the second round of the 2010 NFL Draft. He recorded 325 tackles and 18 sacks in 59 career games.
The Cowboys certainly could have used him.
On Saturday, in a 24-20 win over the Oakland Raiders in Week 3 of the preseason, they lost linebacker Anthony Hitchens to a tibial plateau fracture, which will keep him sidelined for at least eight weeks.
With veteran inside linebacker Sean Lee roaming about, Dallas isn't completely hindered at the position. It also has a potential young star in Jaylon Smith, a former star at Notre Dame, getting more and more reps as he continues to recover from his own knee injury suffered nearly two years ago.
All teams prepare for moments like this one. That's why you constantly hear the phrase "man down, man up." But with the Cowboys vying for a potential return to the Super Bowl this season — after a 21-year drought — taking a look at the linebackers in free agency would be a smart idea.