Much was made of what Dallas Cowboys defensive end David Irving might do ahead of his team's Sunday clash with the San Francisco 49ers during the national anthem.
After teasing that he could go against Jerry Jones' national anthem protest policy to the Star-Telegram, here's what Irving did, according to multiple reports:
"I have made a call," Irving said before Sunday's game. "You'll just have to wait till Sunday."
He reportedly maintained that he wouldn't disrespect the flag, but also said, "it's not about the flag in the first place, you know?"
He couldn't say whether he was considering taking a knee, but later tweeted the following:
Jones has taken a hard-line stance against his players even thinking about kneeling during the national anthem, threatening to bench players who disrespect the flag.
This comes around the same time a 1989 letter to the editor in the Dallas Star-Telegram comes to light, where a frustrated Cowboys fan had this to say about Jones, who apparently sat during the national anthem with his guest at the time, Liz Taylor:
"JEERS: To Jerry Jones and Liz Tayor, who were the only two people at last Sunday's Cowboys-Redskins game not standing while the national anthem was played. Riding out in a cart just before the anthem began was bad enough, but sitting while it was played was more than many of us could handle. Jerry, please note that in Texas, we stand for the national anthem. I hope in the future you will be courteous enough to do the same. P.S. Tom always took off his hat."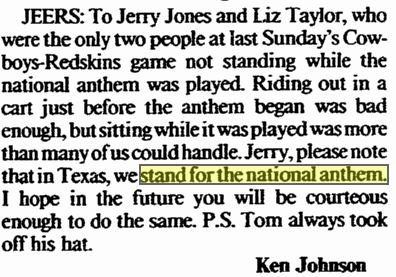 The irony is palpable when thinking of that moment and now thinking about Jones punishing any of his players who would dare take a knee in peaceful protest during the anthem, but there is another way to think about this as well.
Perhaps Jones read or got wind of this letter, and it helped inform his thoughts on proper etiquette during the national anthem — especially in Texas.
Either way, it definitely sheds an interesting context on Jones' thoughts in 2017.
Irving, a three-year veteran, has played sparingly over his tenure with the Cowboys. He played in 12 games as a rookie, 15 last season with two starts and has started and appeared in just one game this season. For his career, he's registered four forced fumbles, 6.5 sacks and 23 tackles.
(H/T TheBigLead)
@clarencehilljr/Twitter