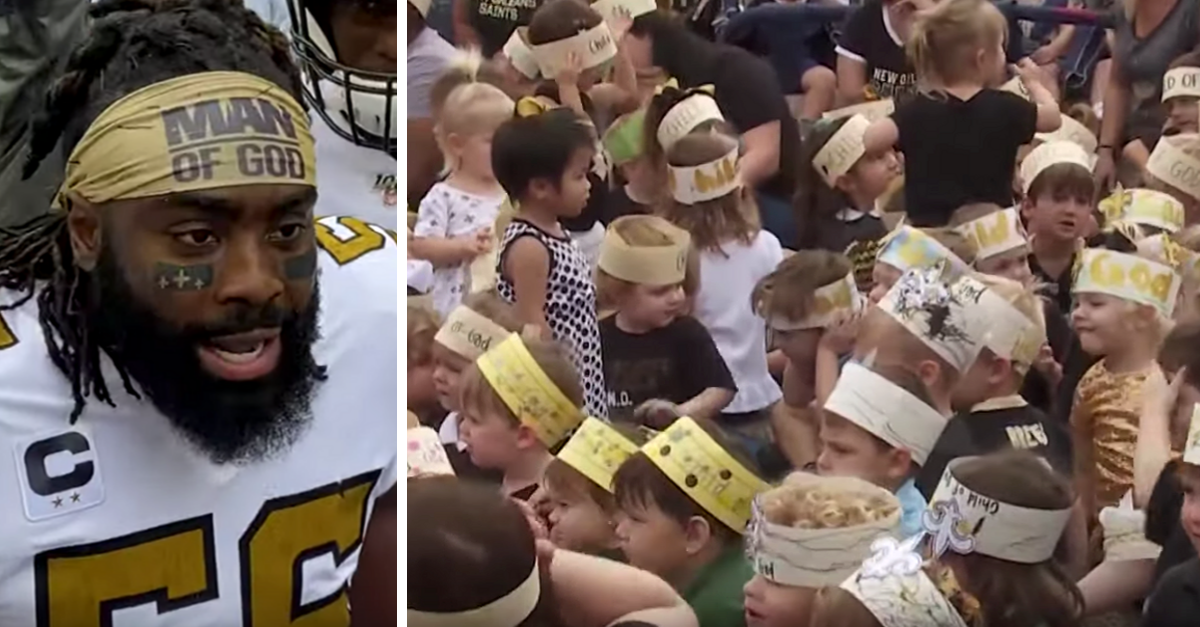 YouTube: New Orleans Saints (left), YouTube: WWLTV (right)
The New Orleans Saints defense held off a fierce comeback by Russell Wilson and the Seattle Seahawks to win their second game of the year, 33-27. The win came courtesy of a stellar game plan on the road, but maybe that wasn't the only factor in play during last week's game? Maybe, just maybe, divine intervention played a role in New Orleans moving to 2-1 on the season.
New Orleans Saints linebacker Demario Davis is more than just a relentless tackler. The eight-year pro recorded 710 tackles through his first 116 career games, but that's only part of who he is. Davis, a former third-round pick by the New York Jets, is a devout Christian and man of God.
"My faith is always going to be the most important aspect of my leadership," Davis once told The Associated Press. "I was a leader off the field on this team before I was a leader on the field. I wanted my character to speak for me before I even stepped foot on the field.
"I wanted guys to know that I put God first, I put my family second and I put football third."
Davis' belief and undeniable leadership brought him to New Orleans last year, and he signed a three-year, $24 million contract. Entering his second season as team captain, Davis is one of New Orleans' most vocal leaders ? When he talks, everyone listens.
The 30-year-old wore a headband reading "Man of God" against Seattle, a clear and obvious link to his faith. This harmless piece of clothing that was under his helmet earned him a $7,017 fine from the NFL the following Saturday, according to Davis and confirmed by The Times-Picayune.
Demario Davis 'Man of God' Headband
RELATED: Tennis Star Fined Over $100,000 for… Cursing?
Davis responded to the fine with an Instagram post asking, "Should I continue to wear it, or nah?"
The NFL rulebook states that uniform violations with "personal messages" on them are subject to this fine, while a second offense commands another $14,037 fine. Previous fines for things like this include Pittsburgh Steelers defensive end Cameron Heyward being fined for eye black honoring his late father, as well as former NFL running back DeAngelo Williams, a vocal supporter of breast cancer awareness, being fined $5,787 for writing "Find the Cure" on his eye black.
Hey, NFL. Shut the hell up.
These are the kinds of idiotic rulings that causes fans to turn their backs and run away from the game, and even create clown hats making fun of Dictator/Overlord/Chancellor/Commissioner Roger Goodell.

The following week, the Saints shut down the Dallas Cowboys offense on Sunday Night Football at Mercedes-Benz Superdome. NOLA sacked quarterback Dak Prescott five times, forced three turnovers, and limited All-Pro running back Ezekiel Elliott to only 35 rushing yards — the third-fewest in a game in his NFL career.
Davis did not wear his 'Man of God' headband again, reminding us that the NFL's dumbass rules actually work, even if we no one likes them.
UPDATE: As it turns out, the NFL are about the only people who had a problem with Demario Davis' headband.
Students and teachers at St. Louis King of France Catholic School in Metairie, Louisiana made and wore their own "Child of God" headbands to support their local football player.
A spokesperson said the planned event was to "show our community that we, just like Demario Davis, are proud and happy to mark ourselves as a 'Man/Woman/Child of God' and support our New Orleans Saints."
NOLA.com reported that Davis won his appeal with the league and will not have to pay his fine.
This post was originally published September 30, 2019.