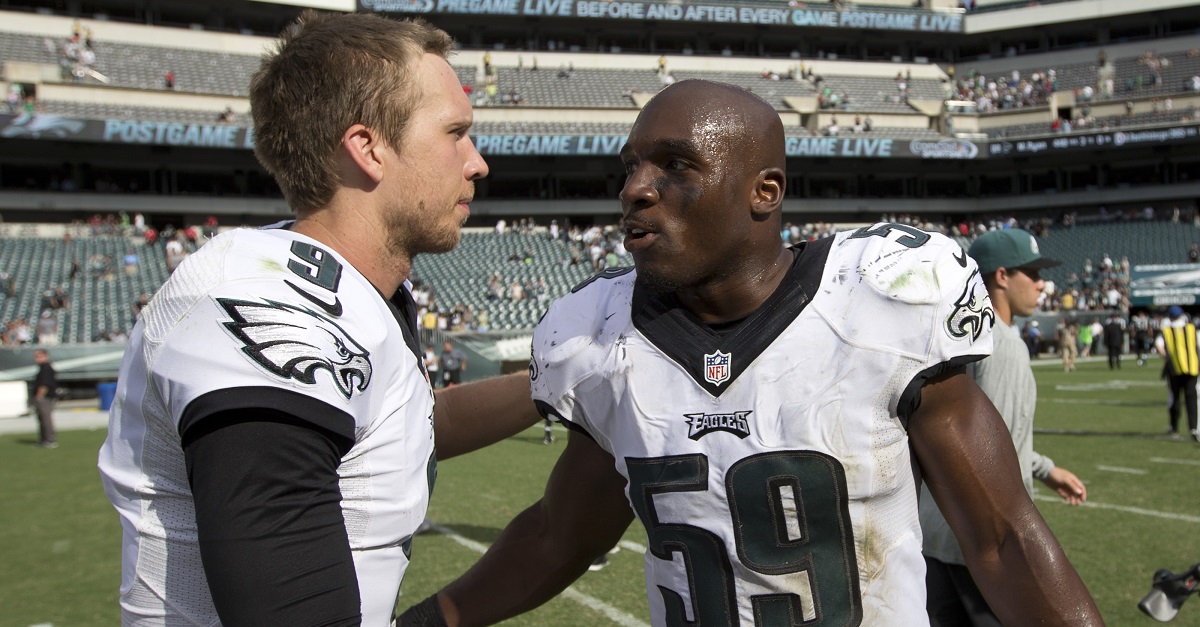 Mitchell Leff/Getty Images
PHILADELPHIA, PA - SEPTEMBER 7: Quarterback Nick Foles #9 of the Philadelphia Eagles and linebacker DeMeco Ryans #59 embrace after the Eagles defeated the Jacksonville Jaguars 34-17 on September 7, 2014 at Lincoln Financial Field in Philadelphia, Pennsylvania. (Photo by Mitchell Leff/Getty Images)
DeMeco Ryans was one of Alabama's greatest linebackers in the pre-Nick Saban era and that got him into the NFL as a second round pick in 2006. He would play for the Houston Texans and most recently the Philadelphia Eagles. However, last season he was with the San Francisco 49ers as a quality control coach. And now he's getting a huge promotion from there.
On Wednesday, it was reported by SacBee.com that Ryans will serve as the San Francisco 49ers? ILB coach this coming season, replacing Ken Norton Jr., who left for the Seattle Seahawks. GM John Lynch said Norton?s decision was the reason Ryans got the job, but he and the team?s head coach are confident he can handle the increased responsibility:
?It probably accelerated DeMeco?s rise. But, hey, Kyle (Shanahan) and I talked about it and he?s more than ready. We?re excited about it.?
It's rare to see a quality control coach start coaching a position group or getting a bump like that after only one year and it sounds like Lynch is pretty confident in his Ryans' abilities to succeed there. He can certainly the young guys something as he did win the NFL Defensive Rookie of the Year award for the 2006 season and was a Unanimous All-American in college.
Ryans was also a two-time Pro Bowler (2007 and 2009) and a First-Team All-Pro in 2007.
[h/t Saturday Down South]