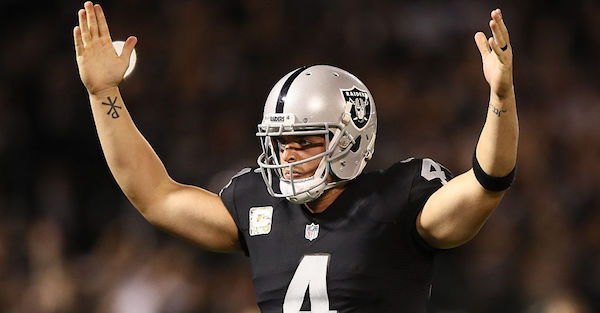 Ezra Shaw/Getty Images
OAKLAND, CA - NOVEMBER 06: Derek Carr #4 of the Oakland Raiders celebrates a touchdown during the second quarter against the Denver Broncos at Oakland-Alameda County Coliseum on November 6, 2016 in Oakland, California. (Photo by Ezra Shaw/Getty Images)
The Seattle Seahawks are never going to live down Russell Wilson's game-ending Super Bowl interception on the 1-yard line against the New England Patriots.
Marshawn Lynch is no longer with the Seahawks, and he signed with the Oakland Raiders in the offseason. His new quarterback, Derek Carr, told reporters on Friday he won't try to win games on his own and said he won't mind giving Lynch the ball on the goal line.
"My No. 1 goal is that I'm going to make sure that I give everything I have to this organization," Carr said. "There's no pressure, there's no, you know, we'll be on the 1-yard line and I won't give it to Marshawn — I'll throw it. There's none of that stuff. I don't care about the stats. That's not my No. 1 objective. I don't care if I throw 10 touchdowns next year. If we win every game, that's all I care about."
Related: One QB has now become the highest paid player in NFL history after just three years in the league
Carr recently became the highest paid player in NFL history after signing a $125 million contract with the Raiders.
He threw for 28 touchdowns and only six interceptions last season before getting injured, and he has established himself as one of the top young quarterbacks in the league.
The addition of Lynch gives Oakland what should be one of the most explosive offenses in the NFL. Carr, Lynch and receiver Amari Cooper is an impressive trio on offense, and defensive star Khalil Mack will lead the Raiders' defense.
The Raiders aren't favored to win the AFC—that title belongs to the defending champion New England Patriots—but they are expected to contend for the AFC title.
An Oakland-Seattle Super Bowl isn't out of the question, and if it happens, expect Carr's comments to be replayed over and over again.
(h/t NFL.com)