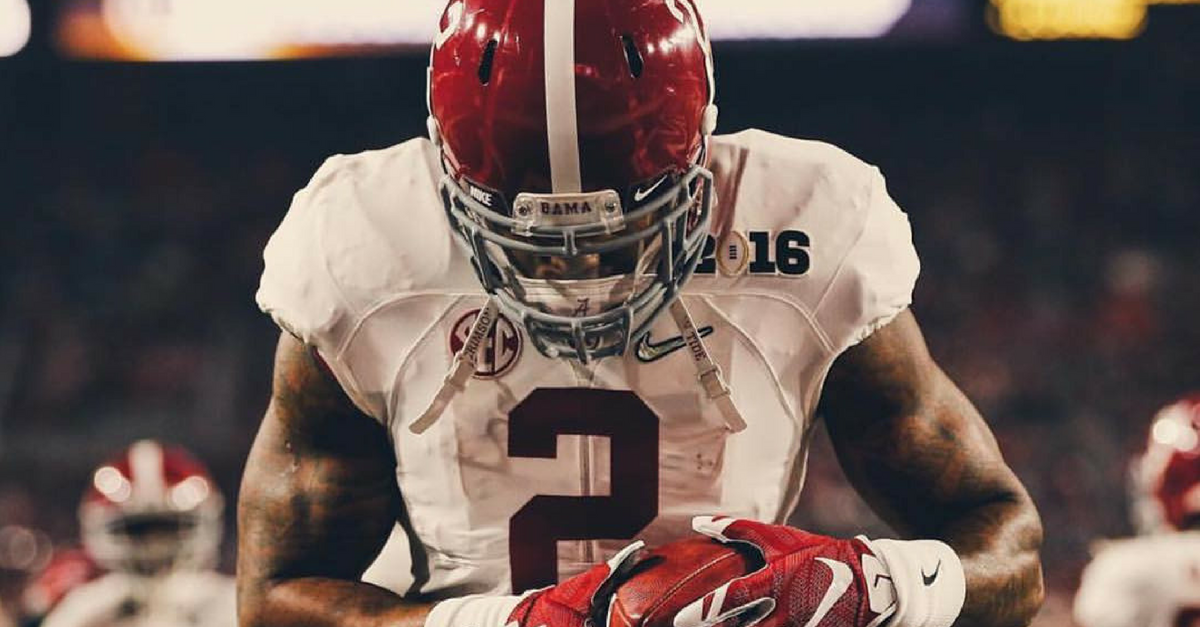 Instagram: @last_king_2
Instagram: @last_king_2
Running backs are becoming a dime a dozen in the National Football League. Teams are opting to go with two or three different players, and rotating them regularly to keep legs fresh and bodies healthy. Having one running back that can shoulder the load, though, makes teams go from good to great.
LeVeon Bell, Todd Gurley and Ezekiel Elliot are the top backs in today's modern game. The Tennessee Titans have a running back that might just be better than all of them, but he hasn't had the chance to prove it until now.
You'd be hard pressed to find a more dominant high school running back than Derrick Henry. At Yulee High School in North Florida, Henry racked up an insane career rushing yards total: 12,124 yards over four high school seasons — That includes his state record 4,261 yards as a senior.
For those counting at home, that's a career average of 258.0 rushing yards per game, and he hasn't slowed down since.
As a member of the Alabama Crimson Tide, all Henry did was average 10.6 yards per carry as a freshman, tally 11 touchdowns as the backup as a sophomore, and win the Heisman Trophy as a junior. Henry re-wrote the SEC record book during the 2015 national championship season wearing crimson and white, setting SEC records for rushing attempts (395), rushing yards (2,219), and rushing touchdowns (28).
Buried behind the now retired DeMarco Murray, the NFL has yet to see what the 6-foot-3 and 250-pound running back can do as 'the guy.'
"No predictions. I just want to be a dominant back. I want to be a premier back in this league," Henry told reporters at Titans' training camp. "And that's me starting out here in training camp getting ready with these guys, competing every day, getting better and preparing for the season."
In two NFL seasons, Henry has only rushed for 1,234 yards and 10 touchdowns, but he averages over four yards per carry. Splitting time with the more-established Murray rendered Henry's big-bodied services unnecessary.
In the Titans' 22-21 AFC Wild Card win over the Kansas City Chiefs last year, Murray was sidelined with a knee injury, and Derrick Henry got the start.
Henry put up a career high 156 yards on 23 carries.
Imagine what the third-year back will do with a full season of touches in Tennessee's run-first offense under new offensive coordinator Matt LaFleur.
Paired with dual-threat quarterback Marcus Mariota, Henry will play in the same mold as Todd Gurley — LaFleur was the Los Angeles Rams' offensive coordinator last season.
The Titans bolstered their depth chart bringing in former New England Patriots utility back Dion Lewis, who figures to be Henry's foil in a pass catching and third-down role for the team.
Undoubtedly though, Derrick Henry is now 'the guy.'
Eddie George, Earl Campbell and Chris Johnson are the top-three running backs in the history of the Tennessee Titans (and their former version, the Houston Oilers).
Give him a few seasons as the premier back in the Tennessee offense, and you can bet Henry has a chance to etch his name into the record books once again.