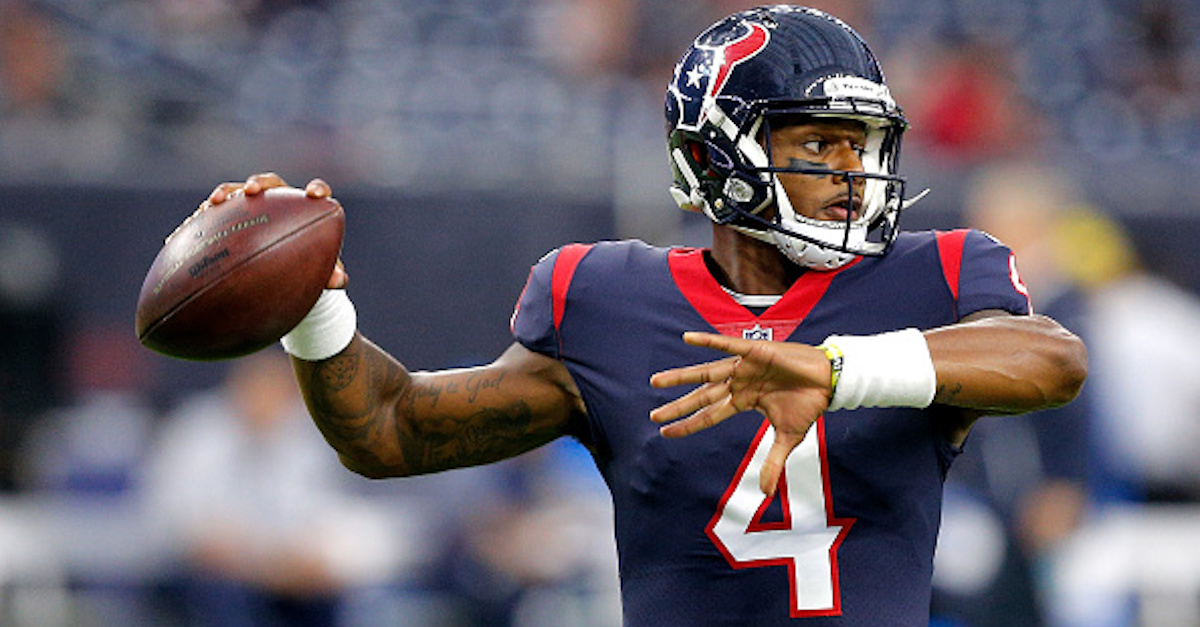 Bob Levey/Getty Images
HOUSTON, TX - AUGUST 19: Deshaun Watson #4 of the Houston Texans throws a pass as he warms up to play the New England Patriots in a preseason game at NRG Stadium on August 19, 2017 in Houston, Texas. (Photo by Bob Levey/Getty Images)
Deshaun Watson's season-ending knee injury was a brutal blow for the Houston Texans and, really, for the entire NFL. The former Clemson quarterback was setting the league on fire with exciting play at the quarterback position and the sky appeared to be the limit, even in his rookie campaign.
Because the injury occurred in practice, the exact nature of how it transpired remained something of a mystery until Friday. Texans defensive back Kareem Jackson shed light on it, though, in visiting with Pro Football Talk in podcast form and he described the incident in this way.
?Just a normal read-option. He kind of kept it and he was just kind of running. I mean, he wasn?t 100-percent full speed. He was just kind of trotting and went down. We didn?t think nothing of it because it didn?t look serious. But for your quarterback to go down, everybody kind of hesitates to make sure he?s all right. He got up with his usual smile on his face, so everybody kind of thought everything was OK.?
Jackson went on to say that it "just happened" and described the play as a "freak accident" that looked to be "nothing at all." This, of course, won't calm the nerves of any Texans fan or player, especially because of the nature of what an injury to a quarterback will do to the upside of the entire team.
Still, it is a reminder that everything in the NFL depends on health and, hopefully, Watson's recovery will be swift.