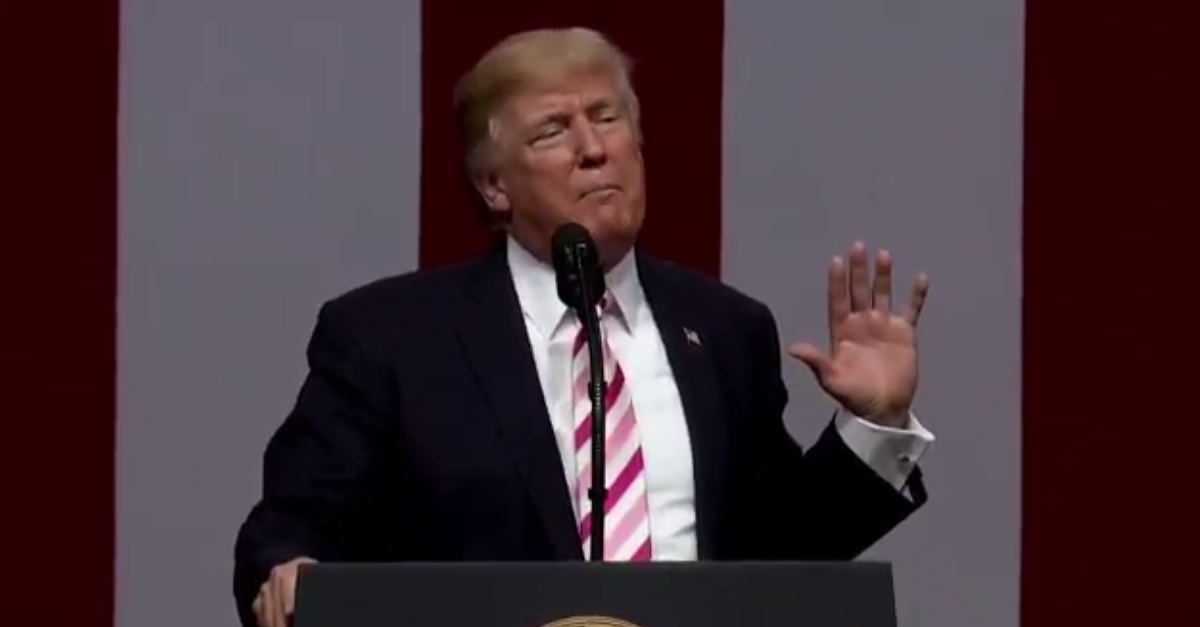 @nick_ramsey/Twitter
President Donald Trump responded to the NFL players who decided to participate in a protest of social injustice during the national anthem in Week 3.
"It was great solidarity," Trump said. "I watched a little bit. I was not watching the games today, believe me I'm doing other things, but I watched a little bit and I will say it was tremendous solidarity for our flag."
Huh?
He didn't watch it but he did? And the protests were tremendous solidarity for our flag?
Either way, Trump's comments have ignited what has already been a growing protest throughout the league dating back to Colin Kaepernick's initial kneeling last season.
On Friday, Trump made headlines during an appearance in Alabama in which he commented on the league-wide national anthem protests by saying that NFL owners should respond to the player protests with the phrase ?get that son of a bitch off the field.?
Wouldn?t you love one of these NFL owners? when someone disrespects our flag say, ?Get that son of a bitch off the field, right now, out, he?s fired.?
The President doubled down on Saturday amid another battle he waged with former NBA MVP Stephen Curry of the Golden State Warriors, claiming he withdrew his invitation to visit the White House, which Curry and the team have stated they had no interest in previously.
New England Patriots owner Robert Kraft also responded to Trump's comments, claiming he was "deeply disappointed by the tone made by the President."
Trump acknowledged Kraft's response on Sunday, while also double-downing on his stance against players taking a knee during the national anthem.
"He has to take his ideas and go with what he wants," Trump said. "I think it's very disrespectful to our country. I think it's very very disrespectful to our flag. I like Bob very much. He's a friend. He gave me a Super Bowl ring a month ago, right? He's a good friend of mine and I want him to do what he wants to do but we have a great country. We have great people representing our country, especially our soldiers, our first responders and they should be treated with respect.

"When you get on your knee, you don't respect the American flag or the anthem, that's not being treated with respect."