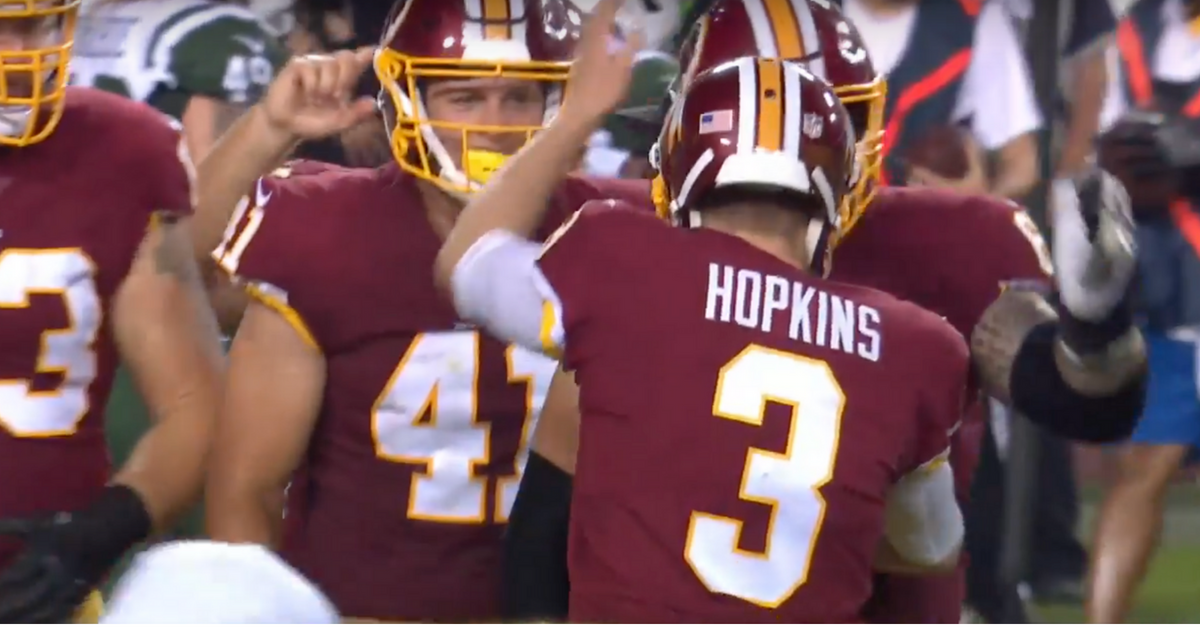 YouTube: NFL Highlights History
It doesn't matter if it's just the NFL preseason, Dustin Hopkins was nails Thursday night, and anyone who says otherwise is just a hater. The Washington Redskins kicker was easily the star of the game against the New York Jets.
Hopkins, a former All-American at Florida State and sixth-round draft pick in the 2013 NFL Draft, was feeling himself. He nailed all five of his field goal attempts to help the Redskins escape an otherwise sloppy game, 15-13, at FedEx Field.
He even split the uprights from 40 yards out in the final seconds to seal the win and boost his fantasy stock.
But a 40-yard field goal? That's a chip shot, apparently.
After nailing kicks from 22, 35 and 26 yards to give Washington a 9-3 halftime lead, Hopkins next kick was one for the record books.
Well, kind of.
With 4 minutes, 10 seconds remaining in the third quarter, Hopkins piped a 28-yard field goal to extend the lead. However, ESPN, the network broadcasting the game, made a major mistake on its push notifications to fans.
The alert read Hopkins had booted a 92-yard field goal 90 seconds before, which caught a lot of attention, including from Hopkins.
Congrats, D-Hop. Welcome to the Pro Football Hall of Fame, and we will be sure to include Redskins longsnapper Nick Sundberg and holder/punter Tress Way for this magical feat, too.
An Austin, Texas native who starred at Clear Lake High School in Houston, Hopkins has now made 6 of 7 field goals and both extra point attempts this preseason. He has made 73 of 87 field goals in his career with the Buffalo Bills and Redskins.
Hopkins had a previous long field goal of 54 yards, but clearly is nothing by comparison to a 92-yarder.
What a phenomenal mistake and it's even better Hopkins cashed it in.