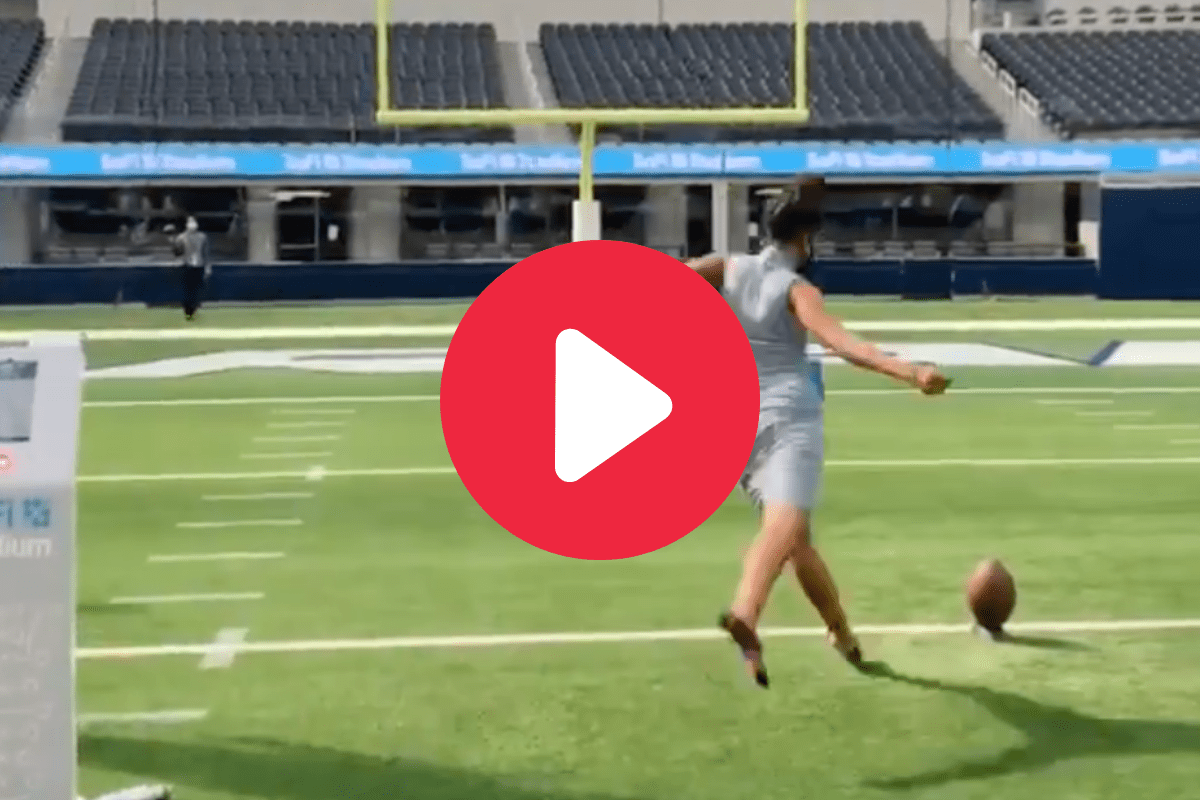 Screenshot from Twitter
By day, Emily Wirtz is a digital video producer and editor for NFL Media.
By night, she kicks field goals in a dress and should think about trying out for an NFL team.
Blair Walsh and Mason Crosby will tell you putting it through the uprights is hard enough wearing cleats, now imagine if they had to do it wearing a dress and in just socks.
Woman in Dress Kicks 20-Yard Field Goal
Wirtz unlaced the shoes and booted a pretty impressive 20-yard field goal at the Los Angeles Rams' SoFi Stadium on Tuesday during some sort of on-field event.
She also showed off her throwing accuracy. When someone on Twitter called her out for making a "lucky shot" on the field goal attempt, she posted another video of her making a different field goal. Since then, the original video has more than 100,000 views.
I've got to say Wirtz does have pretty darn good kicking form. Obviously, this isn't the same thing as lining up in front of 300-pound defenders in a pressure-packed situation. She's not all that far away from the standard 33-yard extra point, and it looked like she made those field goals with plenty of distance.
How did she boot such a good ball without a shoe? She explained on social media that her father was behind that.
"For all those asking how I kicked the ball without shoes: that was the product of YEARS of my German father making me play soccer barefoot to 'get a feel for the ball.'"
Well, it most certainly worked.
Wirtz studied sports journalism at Arizona State University and received her Master's degree in sport management and athlete development from the University of Florida, according to her LinkedIn.
I'm sure Wirtz is a free agent kicker. The Rams made just 80 percent of their field goal attempts last season, so maybe they should consider giving her a call.