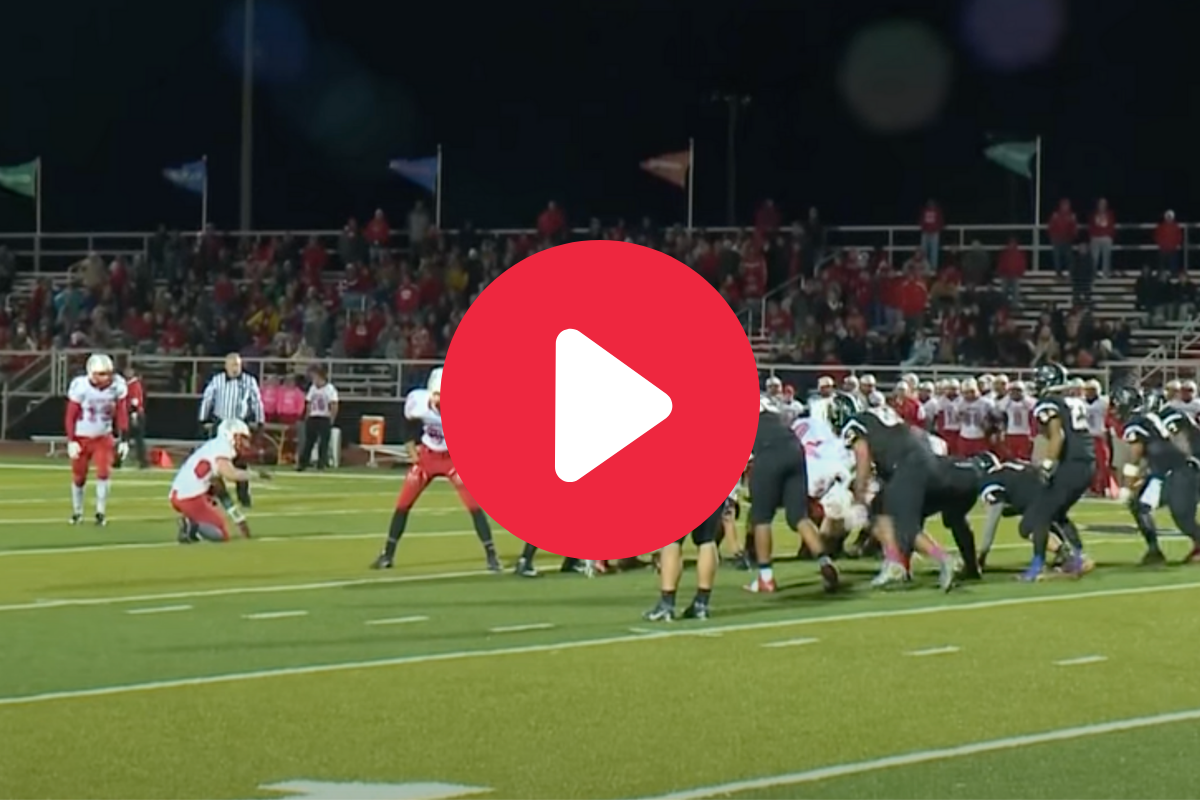 Screenshot from YouTube
Wind is a friend to kites and an enemy to witches who somehow can't tell a house is about to fall on top of them.
It can often play a role in football games as well.
A high school football game in the Sandusky Bay Conference gave us a sterling example of how much wind can impact a game under the Friday night lights in Northern Ohio.
Wind Blocks Field Goal Attempt
RELATED: Female Kicker Nails 55-Yard Field Goal With Nasty Crosswind
The Port Clinton football team — whose nickname shall go unmentioned because it's the same name that was previously used by Washington Football Team — knows the power of wind all too well.
Port Clinton kicker Nathan Stubblefield, who also served as the team's wide receiver, was lined up for a 35-yard field goal on this Ohio evening. Unfortunately for young Stubblefield, the wind was not on his side.
As you can tell, the Port Clinton field goal attempt was met by a true wall of wind. You can't blame that on the leg of the kicker. That field goal was simply not going to go in, no matter how powerful of a leg you have.
Stubblefield could have had Sebastian Janikowski's leg and it would have still fallen short of the end zone, much less gone through the uprights.
This viral moment aside, this was not a bad night for Port Clinton. They actually beat Sandusky Perkins, 25-22. This was a significant event in the SBC, too, as Sandusky Perkins had won 22 home games in a row and two years prior had beaten Port Clinton 73-16.
Stubblefield, who had been All-Ohio the season prior, was happy to be healthy after dealing with injuries, and was probably glad to get a chance to try and 35-yard field goal, even if the wind ate it up. Plus, Nathan Stubblefield did make a 39-yard field goal against Sandusky, presumably going in the other direction on the field.
In the end, though, this viral field goal moment is what most of us will remember about Port Clinton's big upset win over Sandusky Perkins.
When the final whistle blew on the fourth quarter of this Sandusky Bay Conference high school football game, it was all about that field goal attempt.
Did you know Port Clinton's running back Emerson Lowe rushed for two touchdowns? Of course you don't, because it doesn't involve an attempt field goal floating in the middle of the air like Scarlet Witch was controlling it.
For one Friday night in Sandusky, Ohio, the wind did something more thrilling than any roller coast at Sandusky's own Cedar Point. It turned a 35-yard field goal attempt into a sensation that will make sure anybody that sees it never forgets Nathan Stubblefield or Port Clinton's win over Sandusky Perkins.