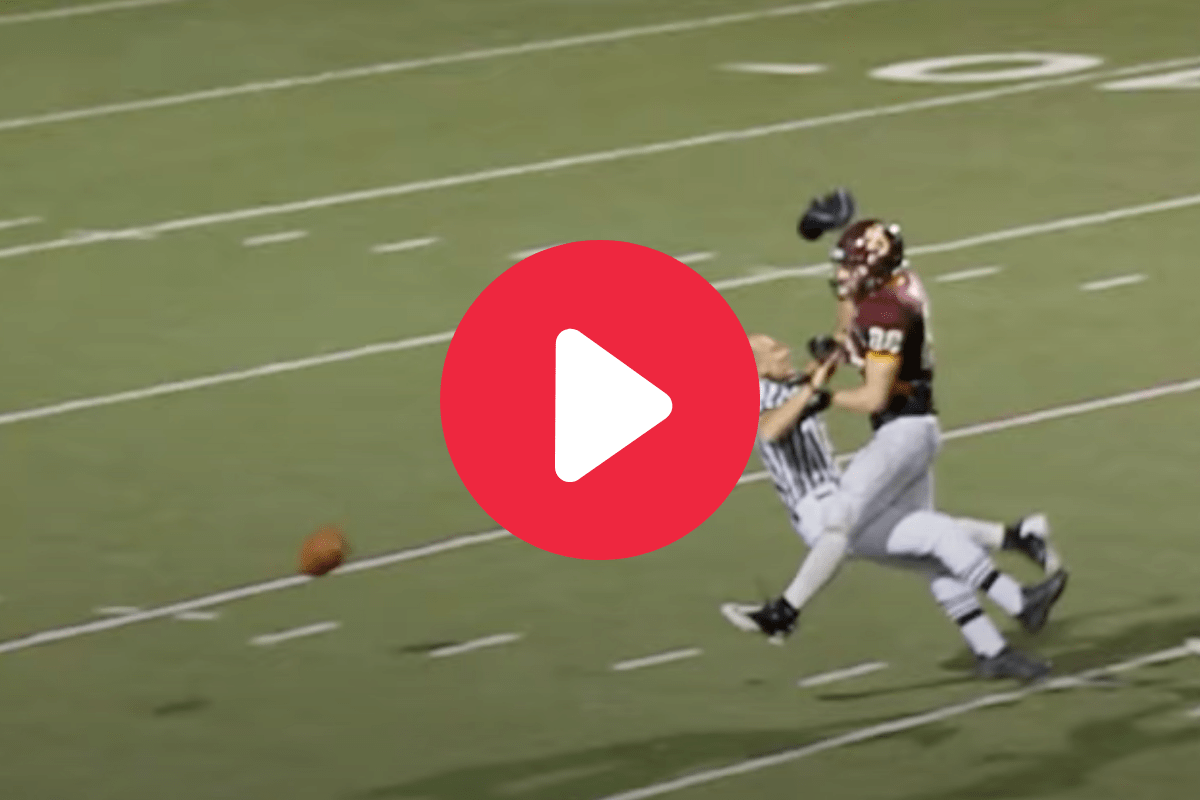 Screenshot from YouTube
High school football referees endure some of the most unimaginable things possible on the gridiron. We've seen on numerous occasions these zebra-striped fellas getting tackled, shoved, punched and even body slammed all because of a game.
It ain't easy calling offsides or pass interference, either. Referees have to run up and down the field to make calls (although not all of them can run a blazing 40-yard dash like this one) and it requires a ton of agility.
If a ref can't get out of the way of a player, they better stand their ground and brace for impact like this one who hilariously caused a fumble.
One Texas high school referee suffered a monster hit when he couldn't get out of the way in time.
Tight End Trucks HS Referee
RELATED: Ref?s Blazing 40-Yard Dash During Game Drove the Internet Wild
Deer Park High School was battling against their rival, Pasadena Memorial, at Abshier Stadium in Deer Park, Texas.
On one play that has made its rounds on social media and Youtube, Deer Park tight end Payden McVey went deep and got behind the defense. Quarterback Austin Rainer dropped what looked to be a catchable pass that could have gone for a 67-yard TD if not for a defender nobody on the field saw coming: the referee.
As McVey stretched his arms out to haul in the catch, he blew up a poor referee, knocking his hat clean off his head. It was a scary moment.
According to the Houston Chronicle, the referee was knocked unconscious and rushed to a nearby hospital, where he was released the following morning.
Thankfully, the referee was OK. But one has to wonder why in the heck he didn't move out of the way. He must not have been paying attention to the play in front of him.
Deer Park's football team was not OK. The school lost the game, 19-18. They mustered just 56 total passing yards, which would have been doubled had McVey reeled in the pass broken up by the referee.
Deer Park head coach Chris Massey said it might have been a difficult catch regardless.
?I guess from looking at the video, we overthrew him a little bit. I don?t know if we would have caught it. But who knows,? Massey told the Houston Chronicle.
It's hard to say. Either way, Deer Park lost the game. This play could have been the difference maker. MVP of the game goes to the referee, who were just glad lived to tell the tale of the time he broke up a potential touchdown.