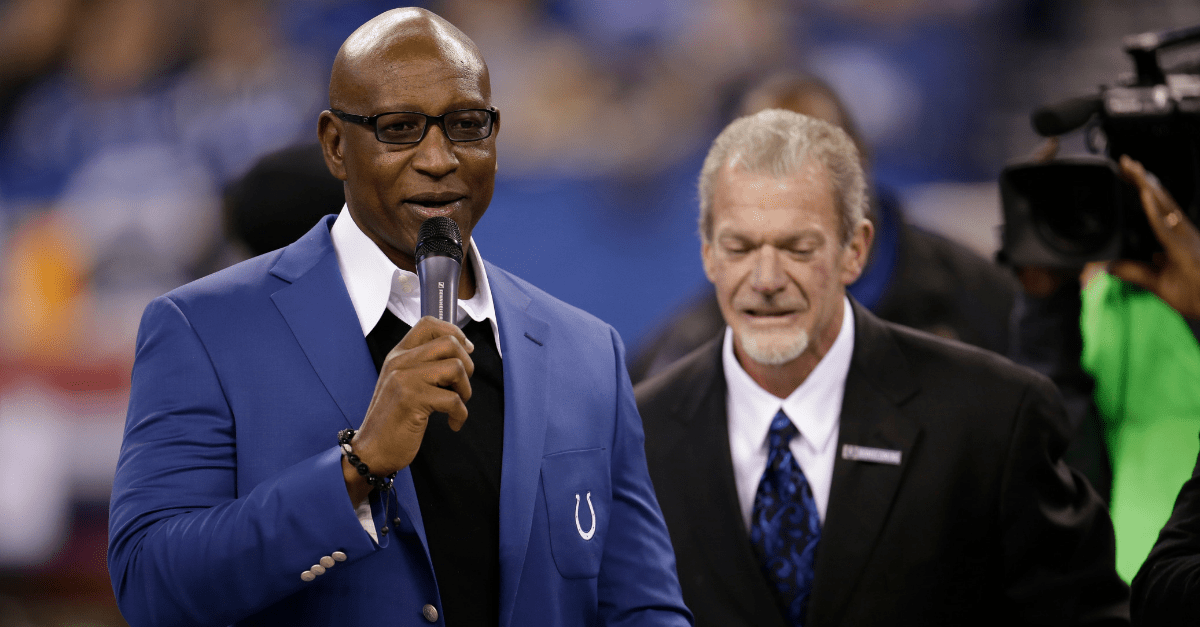 AP Photo/AJ Mast
When Pro Football Hall of Fame running back Eric Dickerson saw Indianapolis Colts fans boo quarterback Andrew Luck after his sudden retirement this preseason, it brought back some hurtful memories for him personally. The rest of the sports world was shocked at the reaction, but perhaps ED saw it coming because it wasn?t the first time a superstar received the boo birds there.
After a successful start to his NFL career with the Los Angeles Rams, Dickerson was traded to the Colts for what would be a record-breaking stepping stone in his career. In the late 1980s, the 6-foot-3 running back became the fastest player to reach 10,000 yards in NFL history.
However, instead of being treated to cheers and a standing ovation, he told ?Lunchtime with Roggin and Rodney? on AM 570 LA Sports that Colts fans actually booed him, too.
RELATED: How Eric Dickerson?s ?Trans A&M? Changed College Football Forever
Getting booed by your home crowd is definitely bizarre, but it?s not the worse thing he experienced in Indy before ending his career with the Los Angeles Raiders and Atlanta Falcons.
In fact, the Hall of Famer, who was put in the Indianapolis Colts Ring of Honor back in 2013, recalled a racist taunt by some of the Indianapolis Colts fans.
?It?s things I?ve never forgotten. Things happen that you don?t forget. I won?t forget that stadium, I think I just went over 10,000 yards, they booed me. They booed. I?ve never forgot that. The thing that really sticks out the most to me, I will never forget this. The girl I was dating named Holly, we?re still good friends, she talks about still it to this day?

?They took a black baby, sitting in the Indian style position, put a stack of money on one side, watermelon is on the other, and me holding fried chicken in my hand with big red lips.?

? Former Colts Running Back Eric Dickerson
Eric Dickerson was one of the best players of his generation and one of the greatest running backs of all time. He led the NFL in rushing yards for four seasons, earned five First-Team All-Pro Honors, and made it to six Pro Bowls while racking up almost 15,000 all-purpose yards with nearly 100 total touchdowns.
What happened in that story is just uncalled for at any time, and it?s the reason Dickerson doesn?t have the urge to return.
?I?ve never EVER forgotten it and I will never get it. That?s why if I don?t go back to Indy, I?m fine with that,? Dickerson said, via TMZ Sports. ?I know I played for that team, but I really have some ill feelings about that.?
Luck?s retirement from the Colts football team brought back another ugly reaction and, for Eric Dickerson, some bad memories.