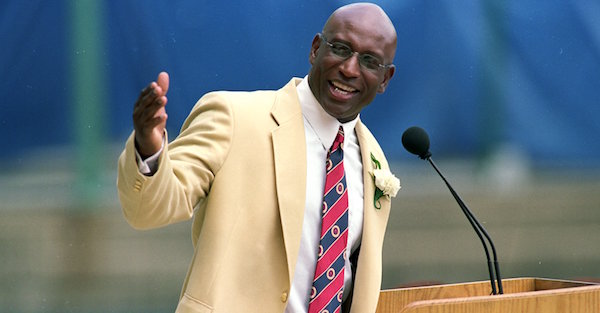 Mark Lyons/Getty Images
7 Aug 1999: Eric Dickerson talks to the press during his induction into the Pro Football Hall of Fame in Canton, Ohio.
Former Los Angeles Rams running back Eric Dickerson is still giving strong opinions about what important decisions the franchise should make.
Last year, Dickerson said in November he believed the Rams should fire head coach Jeff Fisher. They did, and they replaced him with Sean McVay. Now, Dickerson is offering his opinion on who the Rams should start at quarterback.
Dickerson said on The Herd he believes Sean Mannion should start over former No. 1 overall pick Jared Goff.
Related: Pacman Jones has been suspended by the NFL yet again
"For me, my guy that I would start the season with is Sean Mannion," Dickerson said. "I've been saying that since last year. Give him a shot. You drafted him. He was great at — where'd he go to school? — Oregon State, playing in a pro-style offense. He's a big guy, got a great arm."
"Look when you win, that [Fisher] situation would have never been there. I think you had a better chance of winning with Sean Mannion. I think even this year they start with Sean Mannion."
Dickerson's criticism of Fisher was warranted last year, but this opinion makes far less sense. The Rams need to see what Goff can do and see if he can be the franchise quarterback. Starting Mannion at this point doesn't make much sense.
If the Rams were going to start Mannion over Goff, the end of last season would've been the time to make that decision.
The franchise traded up and took Goff first overall, and now they need to see if he can actually play or if they need to prepare to take another quarterback in the draft soon.
(h/t NFL.com)