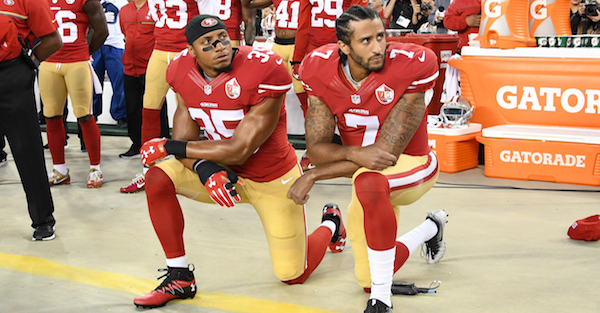 Thearon W. Henderson/Getty Images
SANTA CLARA, CA - SEPTEMBER 12: Colin Kaepernick #7 and Eric Reid #35 of the San Francisco 49ers kneel in protest during the national anthem prior to playing the Los Angeles Rams in their NFL game at Levi's Stadium on September 12, 2016 in Santa Clara, California. (Photo by Thearon W. Henderson/Getty Images)
Colin Kaepernick remains a free agent at this late hour of the NFL offseason. As a result, the topic of his playing status remains an everyday topic in the sporting world and, this week, ESPN's Max Kellerman jumped into the conversation.
The First Take co-host took an interesting position on Kaepernick's choice to kneel for the national anthem in that Kellerman flipped things around to the NFL. (via Sporting News)
"He was asked to stand for the national anthem. You do not have to stand for the national anthem. And even if it it was a rule that you did, is that Colin Kaepernick injecting politics in the NFL? No. That's the NFL injecting politics by playing the national anthem and putting pressure on you to stand for it in the first place."
RELATED: FOX Sports host: "No NFL team is touching" Kaepernnick after latest message
Kellerman is not the first person to point out that the NFL (and other major sports) makes a conscious choice to play the anthem before each and every game. With that said, it should not come as a surprise that many people are outraged by Kellerman's opinion in this spot and, frankly, that speaks to the divisive nature of the issue.
It isn't as if Kellerman was yelling and screaming in pure defense of Colin Kaepernick but he certainly seems to be siding with him over many in the NFL world.