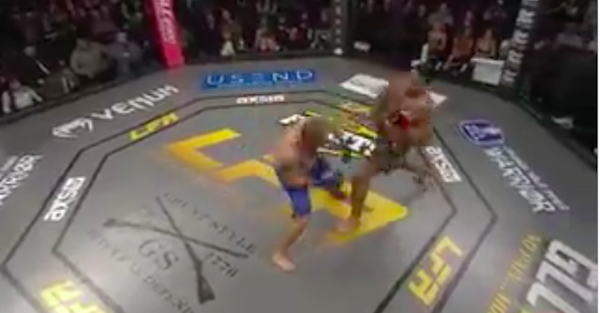 @PatDoneyNBC5/Twitter
@PatDoneyNBC5/Twitter
Former Pro Bowl defensive end Greg Hardy continues to make a successful transition from the gridiron to the Octagon.
Hardy defeated Ryan Chester in 14.53 seconds at Legacy Fighting Alliance 33 in Dallas on Friday night to extend his MMA record to 3-0.
Here's the fight in its entirety:
"It's a rush," Hardy told the Dallas Morning News after the fight. "There is nothing like it. Nothing like a knockout. One of the most incredible feelings I ever had. Every second (of training) is worth it. I wish I could do more."
Hardy, who signed with the Richmond Roughriders of the American Arena League in January, hasn't played in the NFL since being cut by the Dallas Cowboys in 2015 after several notable incidents, including a well-documented expunged domestic abuse charge, which was overlooked by when the franchise signed the former Pro Bowler in free agency and drew heavy criticism.
The former Ole Miss standout also had a slew of inappropriate tweets, frequent tardiness and was considered a bad influence on younger teammates prior to his demise in Dallas and subsequent blackballing from the league months later.
However, there's no doubting that Hardy has made an impressive early start to his amateur MMA career, winning his first three fights in 32, 96 and 14 seconds, respectively.