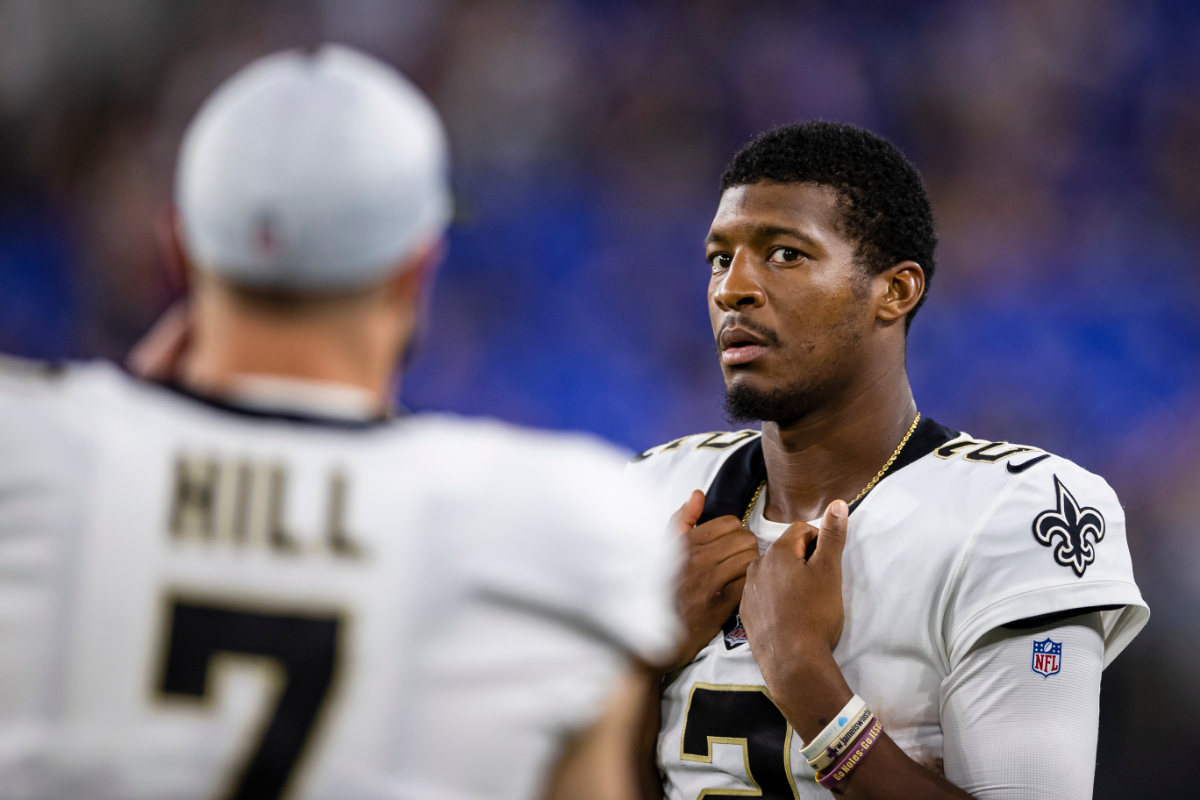 Photo by Scott Taetsch/Getty Images
When NFL teams pay their starting quarterback a king's ransom, they also take out a massive insurance policy in case their Ferrari crashes. Backup quarterbacks may have the most boring job at the surface, but they're vital to an NFL team's success when called upon. They make a lot of money, too.
Being the backup NFL quarterback potentially opens the door for a career-defining moment. Take the Philadelphia Eagles' run to their Super Bowl LII win, or "Varsity Blues" icon Jon Moxon, as prime examples of what happens when the backup quarterback takes advantage of his opportunity to step in and become "the guy."
Backup quarterbacks are overlooked until they're needed. It's a position that leans on the mantra "be ready for anything." Only 32 quarterbacks start in the NFL every week. Being ready to step into those shoes as a team's quarterback can happen at any moment, so franchises make sure to sign the next-best option.
Every starter needs an insurance policy. The Kansas City Chiefs have Chad Henne behind Patrick Mahomes. The Baltimore Ravens have Tyler Huntley behind Lamar Jackson. The Atlanta Falcons have Josh Rosen to protect Matt Ryan. The Seattle Seahawks have Geno Smith on the sideline in the event Russell Wilson goes down like he did in October 2021. Even the San Francisco 49ers have exciting rookie Trey Lance on retainer in case Jimmy Garoppolo goes down.
NFL backups, despite being the side-chick of their team, get paid big bucks to ride the bench.
All these figures are the total cash values that each player is owed for the 2021 season as the "other guy" on their NFL team. These numbers don't include first-round rookie quarterbacks that weren't originally named the team's starter like Justin Fields or Trey Lance, all of whom received a significant bonus.
10 Highest-Paid Backup QBs
10. CJ Beathard, Jacksonville Jaguars
$2.858819 million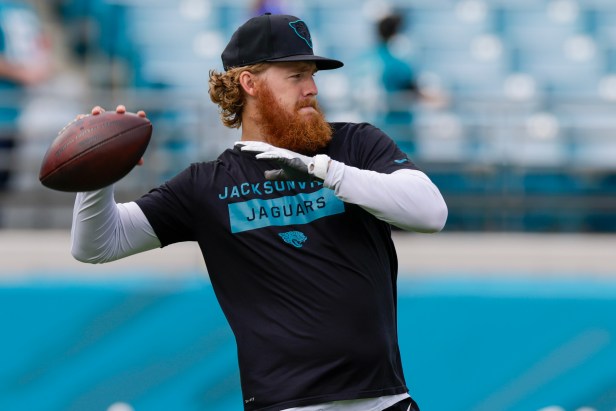 CJ Beathard spent three seasons with the San Francisco 49ers and went 2-10 as a starter. The Jaguars picked him up and liked him enough to make him their backup quarterback over Gardner Minshew.
9. Mason Rudolph, Pittsburgh Steelers
$3 million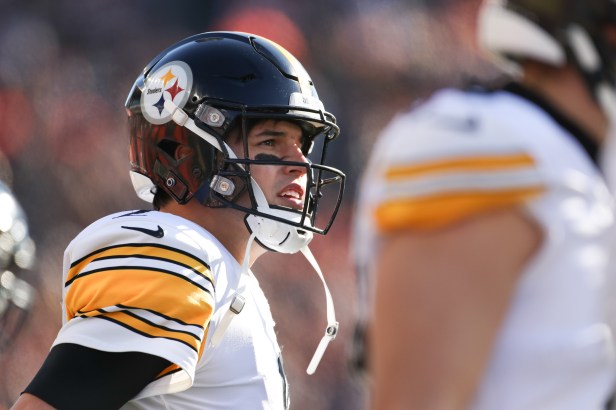 Mason Rudolph might be a bit of a shocker on this list. However, he went 5-3 when Ben Roethlisberger was out with an injury. If Big Ben goes down (and heck, at his age that's always a possibility), the Steelers might be OK with Rudolph under center. As long as Myles Garrett isn't around.
8. Marcus Mariota, Las Vegas Raiders
$3.5 million
Mariota lost faith with the Tennessee Titans, and the franchise rewarded Ryan Tannehill with a contract extension that makes him the NFL's fourth-highest paid QB of 2020. If there's any quarterback in the NFL with more to prove, it's Mariota.
He joined the Raiders as Derek Carr's backup, but make no mistake: this is an ongoing open competition. The Raiders entered a new era in Sin City, and Carr's hasn't made a Pro Bowl since 2017, the same year he signed a $125 million extension.
Mariota wins with his arm and legs, and if the Raiders need to, he'll hand the keys over to the former No. 2 overall pick.
7. Joe Flacco, New York Jets
$3.5 million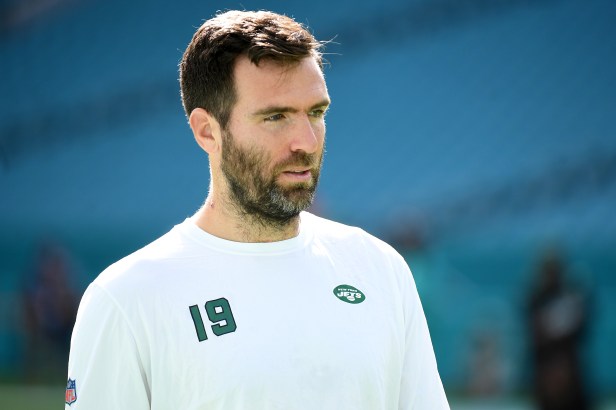 Joe Flacco is a long way removed from his Super Bowl victory with the Baltimore Ravens, but he's still a better option as a backup than most guys. He joined the Eagles on a one-year deal worth $3.5 million with the chance to earn another $4 in incentives if anything happened to Jalen Hurts. The team traded him to the New York Jets in October 2021.
6. Nick Foles, Chicago Bears
$4.0 million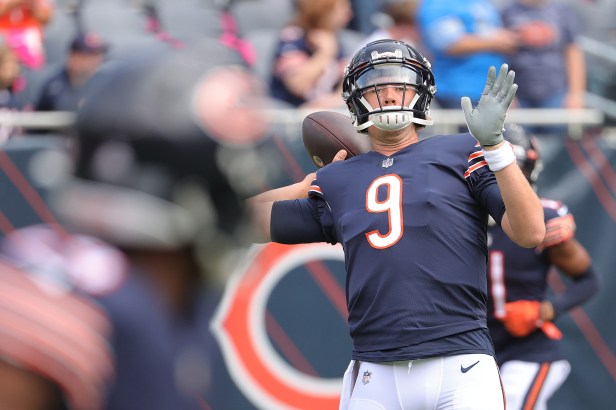 It's truly absurd the Bears are paying Nick Foles $4 million to be their third-string quarterback, but hey, at least they're in a good position if Justin Fields and Andy Dalton happen to go down at the same time. The former Super Bowl-winning quarterback with the Philadelphia Eagles might not be what he used to be, but he's making solid money.
5. Jacoby Brissett, Miami Dolphins
$5.0 million
The Dolphins didn't keep Ryan Fitzpatrick around, rather opting to give the keys to Tua Tagovailoa in 2021. Injuries to their first-round quarterback have hindered the start of his career, so signing a veteran like Jacoby Brissett made sense for Miami.
4. Tyrod Taylor, Houston Texans
$5.323529 million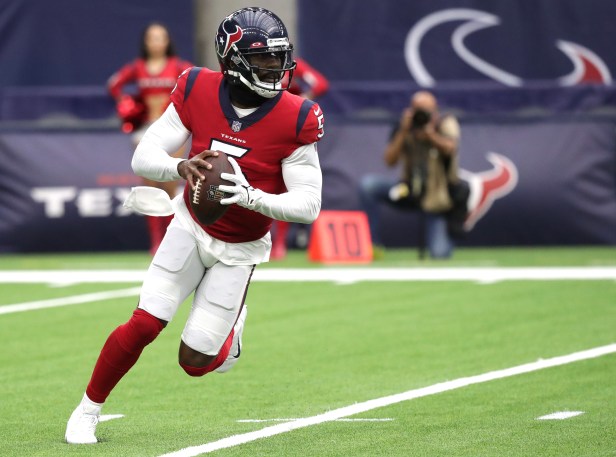 Tyrod Tayor was signed as an insurance policy for Deshaun Watson, who hasn't played a snap of the 2021 season due to a pile of sexual assault allegations. The former Buffalo Bills passer is making more than $5 million in 2021, including a $2.5 million signing bonus.
The NFL veteran owns a 26-25-1 career record as a starter in the NFL, including a solid 59 touchdowns to 25 interceptions.
3. Case Keenum, Cleveland Browns
$6.0 million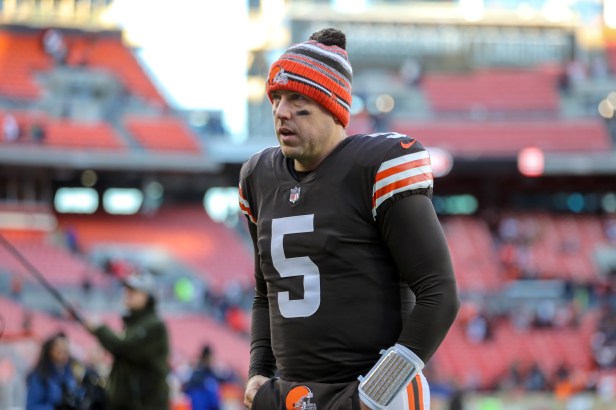 I've always been a fan of Case Keenum, but no team ever goes all-in on college football's all-time leading passer.
Keenum enters his 11th season with his sixth different team — he played two different stints with both the Houston Texans and St. Louis/Los Angeles Rams, then one season apiece with the Minnesota Vikings, Denver Broncos and Washington Redskins/Washington Football Team. Keenum's career record starting on subpar teams is 28-35, but his 76 touchdowns against 47 interceptions is among the better ratios on this list.
Playing behind Baker Mayfield on a three-year, $18 million contract doesn't offer many opportunities, but Cleveland is in good hands should their star QB go down.
2. Andy Dalton, Chicago Bears
$10.0 million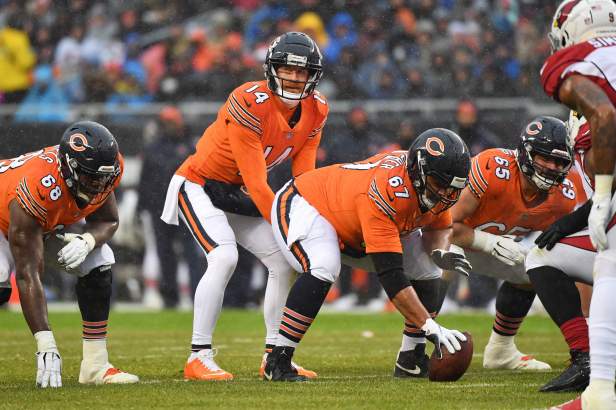 The Chicago Bears are the rare team with two backup quarterbacks on this list. The Bears signed longtime Cincinnati Bengal and former Dallas Cowboys passer Andy Dalton to a one-year, $10 million deal for the 2021 season. With Justin Fields the starter, that leaves both Dalton and Foles on the bench.
1. Taysom Hill, New Orleans Saints
$12.159 million
Technically, Taysom Hill is on the roster as a quarterback, but he's much more than that. The Swiss army knife throws, runs, catches, blocks kicks, makes tackles, fills up the water cooler and wins the hearts of old school football fans every week.
The Saints watched Teddy Bridgewater head west to the Los Angeles Chargers, and also signed Jameis Winston as Drew Brees finished his swan song. Hill and the Saints have the oddest quarterback situation in football, as their backup quarterback is making more than their starter. Winston is making $5.5 million to sling the pigskin in New Orleans, but the team called on their backup when Winston was lost for the season to injury.
Money well spent?
The 2020 Highest-Paid Backup: Alex Smith
$16.0 million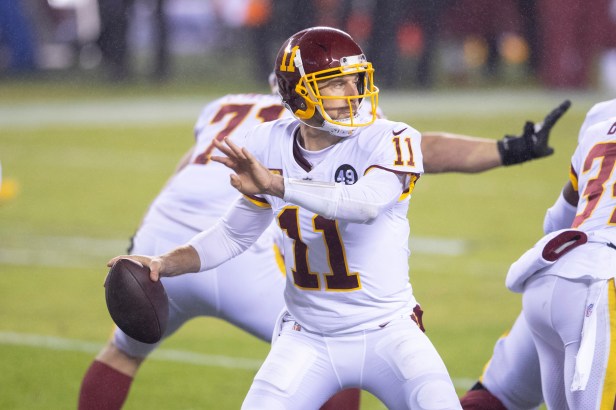 The No. 1 overall pick of the 2005 NFL Draft was miraculously playing again and topped the list of highest-paid backup quarterbacks in 2020. His surgically-repaired right leg looked like Dr. Frankenstein's monster when Smith unveiled the damage ahead of the 2020 season, but the then-36-year-old worked hard to make a comeback.
I didn't envision new head coach Ron Rivera putting Smith into live action with both Dwayne Haskins and newly-acquired Kyle Allen (who previously backed up new New England Patriots' Cam Newton on the Carolina Panthers) on the roster. Smith was the highest-paid player Washington had in terms of total contract value, and he was forced into action last season.
With a $16 million price tag in 2020, Smith made more than Matthew Stafford, Baker Mayfield and Patrick Mahomes.
Look what happened when the Green Bay Packers lost Aaron Rodgers to a broken collarbone back in 2017. All they had was Brett Hundley, who led the team to a 3-6 record as the starter. When the Colts were with Andrew Luck, Jacoby Brissett led a potential playoff team to a 4-12 record. It makes you wonder why the Tampa Bay Buccaneers don't have a better insurance policy for five-time MVP Tom Brady other than Kyle Trask and Blaine Gabbert.
Over the years, teams like the New York Jets and Miami Dolphins relied on career backups to carry the load without a franchise QB on the roster. These guys might sit for several seasons before getting their chance, but that doesn't mean they're relinquished to a backup role forever (See: Kirk Cousins).
Riding the bench might not be fun, but it sure pays. Check out some of the highest paid backups who weren't used in long-term regular season action over the last few seasons.
Highest-Paid Backups Last 5 Seasons
Highest-Paid Backup QB – 2020
1. Alex Smith – $16.0 million
2. Marcus Mariota – $9.130549 million
3. Taysom Hill – $8.841 million
4. Case Keenum – $5.5 million
5. Mitch Trubisky – $4.513 million
Highest-Paid Backup QB – 2019
1. Eli Manning – $17.0 million
2. Teddy Bridgewater – $7.25 million
T-3. Tyrod Taylor – $6.0 million
T-3. Chase Daniel – $6.0 million
5. Brian Hoyer – $5.0 million
Highest-Paid Backup QB – 2018
1. Nick Foles (Eagles) – $9.0 million
2. Teddy Bridgewater (Saints) – $6.0 million
3. Mike Glennon (Cardinals) – $5.0 million
4. Chad Henne (Chiefs) – $4.15 million
5. Chase Daniel (Bears) – $4.0 million
Highest-Paid Backup QB – 2017
1. Patrick Mahomes (Chiefs) – $10.6 million
2. Matt Schaub (Falcons) – $4.6 million
3. Nick Foles (Eagles) – $4.0 million
4. Chad Henne (Jaguars) – $3.3 million
5. Colt McCoy (Redskins) – $3.0 million
Highest-Paid Backup QB – 2016
1. Chase Daniel (Eagles) – $7.0 million
2. Paxton Lynch (Broncos) – $5.5 million
3. Chad Henne (Jaguars) – $5.0 million
4. Drew Stanton (Cardinals) – $3.5 million
5. Shaun Hill (Vikings) – $3.3 million
This post was originally published on November 22, 2020. It has been updated during the 2021 season.
Related Videos