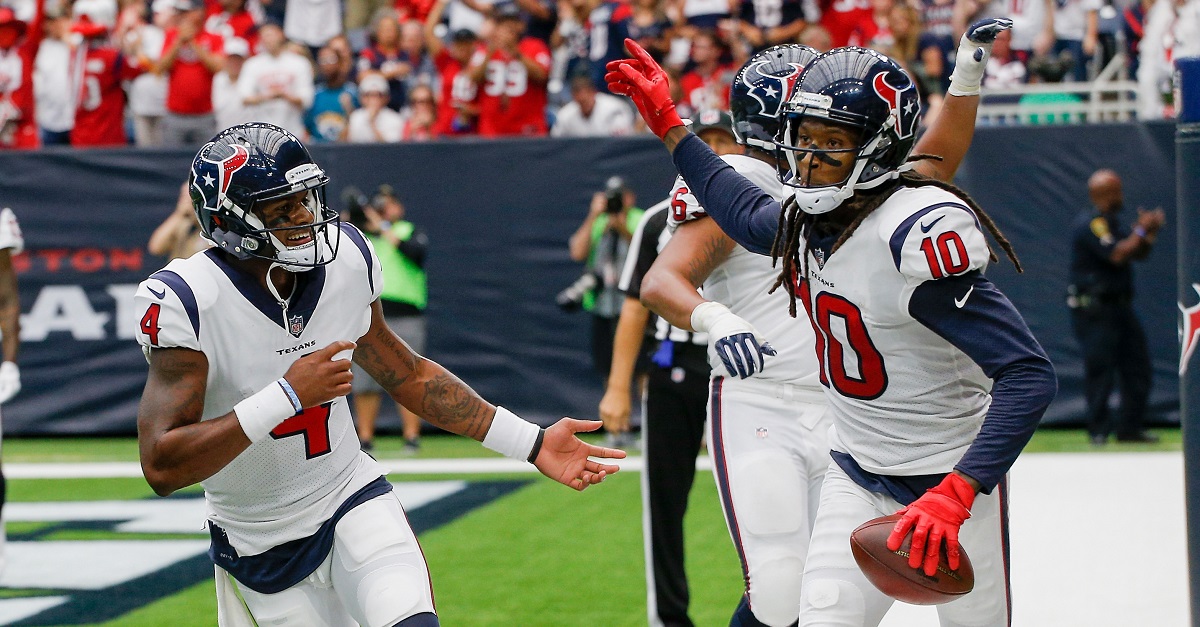 Bob Levey/Getty Images
HOUSTON, TX - SEPTEMBER 10: DeAndre Hopkins #10 of the Houston Texans and Deshaun Watson #4 celebrate after a score in the third quarter at NRG Stadium on September 10, 2017 in Houston, Texas. (Photo by Bob Levey/Getty Images)
This isn't ideal.
According to ESPN's Adam Schefter (via Sarah Barshop), members of the Houston Texans threatened to walk out of practice today following comments from team owner Bob McNair.
The players were reportedly persuaded to stay, but Schefter said that one player, former first-round pick DeAndre Hopkins, did indeed miss practice because of McNair's comments.
The reports come after comments from the most recent NFL owners meeting became public, where McNair used the phrase "inmates running the prison" in reference to the ongoing national anthem protests in the NFL.
As Jones spoke, [Dan] Snyder mumbled out loud, "See, Jones gets it — 96 percent of Americans are for guys standing," a claim some dismissed as a grand overstatement. [Bob] McNair, a multimillion-dollar Trump campaign contributor, spoke next, echoing many of the same business concerns. "We can't have the inmates running the prison," McNair said.
McNair later released a statement about his remarks as a form of apology. Via Texans PR:
"I regret that I used that expression. I never meant to offend anyone and I was not referring to our players. I used a figure of speech that was never intended to be taken literally. I would never characterize our players of our league that way and I apologize to anyone who was offended by it."