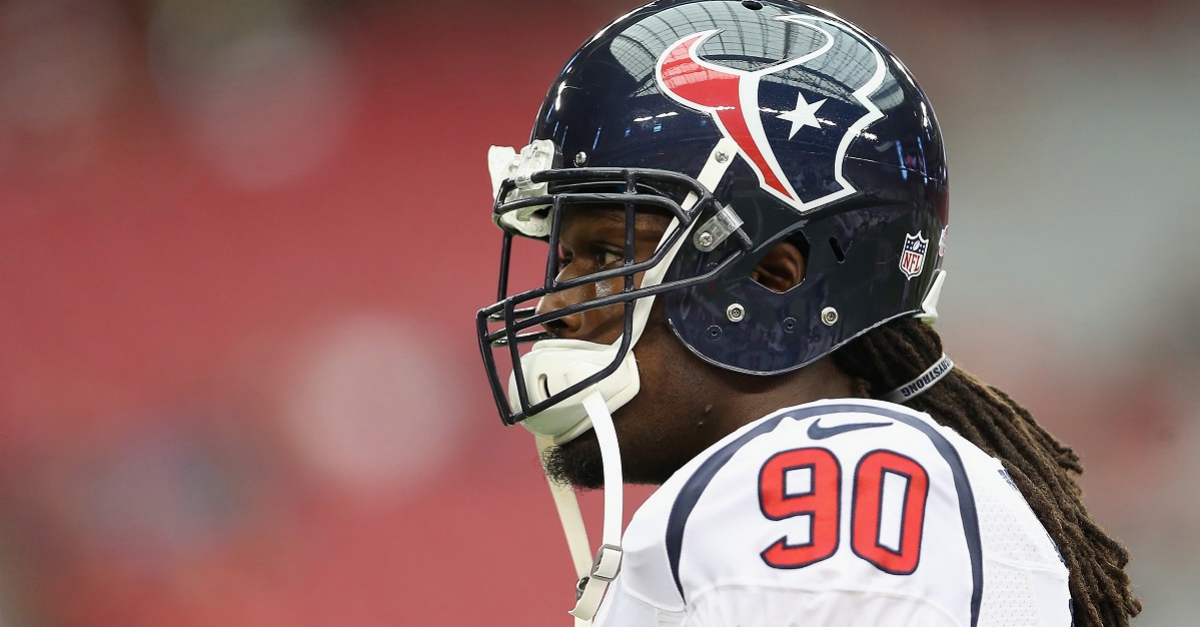 Christian Petersen/Getty Images
GLENDALE, AZ - AUGUST 09: Linebacker Jadeveon Clowney #90 of the Houston Texans warms up before the preseason NFL game against the Arizona Cardinals at the University of Phoenix Stadium on August 9, 2014 in Glendale, Arizona. The Cardinals defeated the Texans 32-0. (Photo by Christian Petersen/Getty Images)
The Jacksonville Jaguars obliterated the Houston Texans for the second time this season, and this time Blake Bortles led the Jags to a 45-7 win.
Bortles threw for 326 yards and three touchdowns on 21 of 29 passes, and he's been solid this season despite questions surrounding his ability entering the season.
Former No. 1 overall pick Jadeveon Clowney was asked whether he thought Bortles was improving, and he said the QB is still "trash."
Related: Report: NFL makes stunning decision on potential punishment following ugly end to Jaguars-Seahawks
Bortles was taken two picks after Clowney in the 2014 NFL Draft, and he struggled over the first few years of his career.
Jacksonville's defense has been the biggest reason why they're 10-4 this year, but Bortles hasn't been been as bad as he looked a season ago. He's not exactly a Pro Bowler, but he's improved enough to help the team become one of the top teams in the league.
Bortles might not be a great QB, but his team has definitely had the upper hand over the Texans. Clowney's comments will be scrutinized after his team fell to 4-10.
(h/t Bleacher Report)