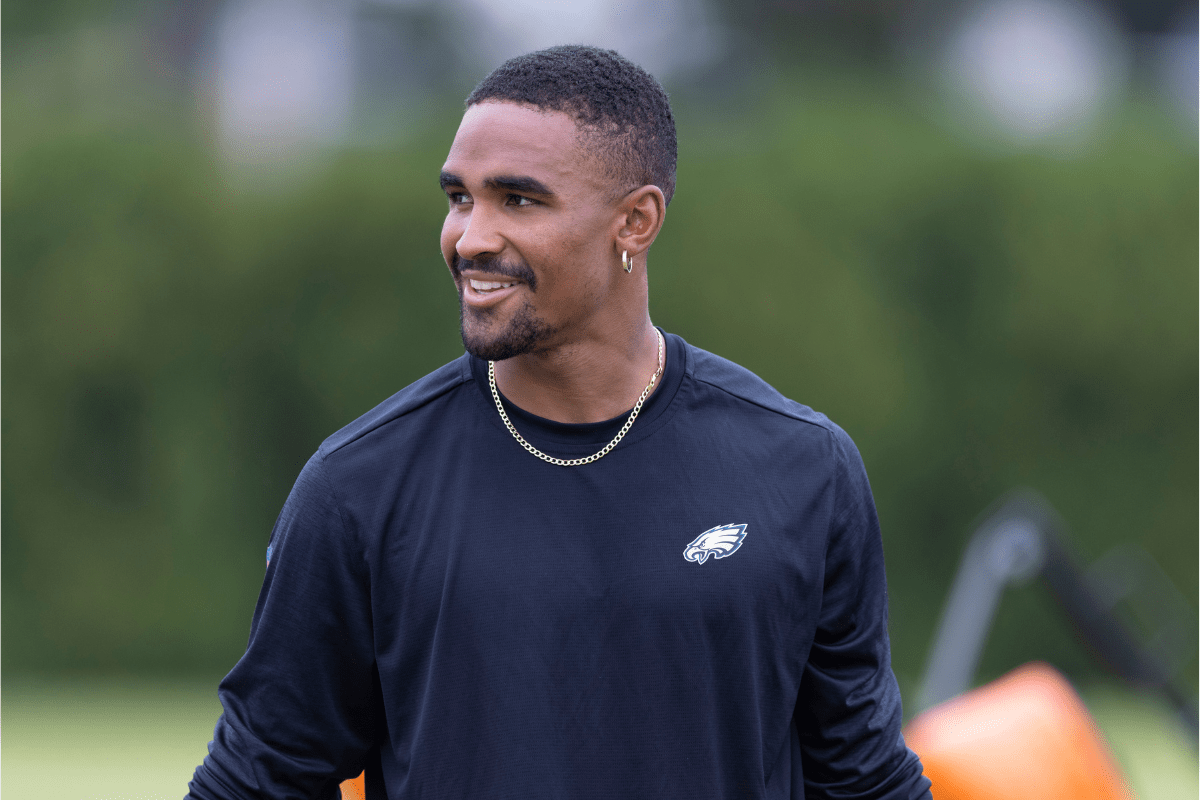 Mitchell Leff via Getty Images
Jalen Hurts has been on the national football radar since he was a four-star signal caller for Texas' Channelview High School.
He introduced himself to the college football world as the Alabama Crimson Tide's first true freshman starting quarterback in over 30 years and held the job until the second half of the 2017 National Championship Game, when Tua Tagovailoa usurped him.
Hurts took his talents to Norman, Oklahoma, to play for head coach Lincoln Riley and the Oklahoma Sooners. He proved his talent by carving up Big 12 defenses enough to be named a Heisman Trophy finalist in 2019.
Naturally, the dual-threat QB's next step was the NFL. His rebound season at Oklahoma was all the Philadelphia Eagles needed to see to draft him in the second round of the 2020 NFL Draft. He sat behind Carson Wentz until Wentz played poor enough to give Hurts a shot at commanding the offense full time. He started the final four games of the season and proved himself as a passer and runner despite the Eagles going 1-3.
In 2021, Philly's huddle is all his after Wentz was traded to the Indianapolis Colts.
That's a record-breaking brief of Hurts' football bio. But what about the man off the field? What about his personal life? His love life?
Let's find out.
Jalen Hurts' Family
Like anyone who's ever slung the rock in Texas, Jalen comes from a football-loving family.
The American football player was born Jalen Alexander Hurts to Pamela Hurts and Averion Hurts. He has one older brother, also named Averion, and a younger sister named Kynnedy Hurts. Jalen's dad was his football coach in high school.
Averion Jr. played QB at Texas Southern and is a high school football coach like his dad in the Houston area.
Who is Jalen Hurts' Girlfriend?
RELATED: Mac Jones' Girlfriend Helped Him Learn the Patriots' Playbook
Hurts keeps his private life on the down low. He doesn't post much other than football-related content on social media, so it's not easy to know who he's been dating, if anyone.
When the 2016 SEC Offensive Player of the Year wasn't throwing touchdowns against Texas A&M and Clemson at Alabama, he was spending his time with his girlfriend Bry Burrows.
Burrows was very plugged in at the University of Alabama, taking part in various student organizations and earning two bachelor's degrees in spanish and political science. She went on to earn her master's degree in business administration immediately after graduation.
The couple's relationship ended when Hurts transferred to Oklahoma to finish his college career. As for Burrows, she works for IBM in the Dallas area, according to her LinkedIn.
Jalen Hurts' relationship status is currently single and his net worth is still growing. For now, he's focused on taking down MVPs such as Tom Brady and Patrick Mahomes. He can find a new a girlfriend in the offseason.
Related Videos