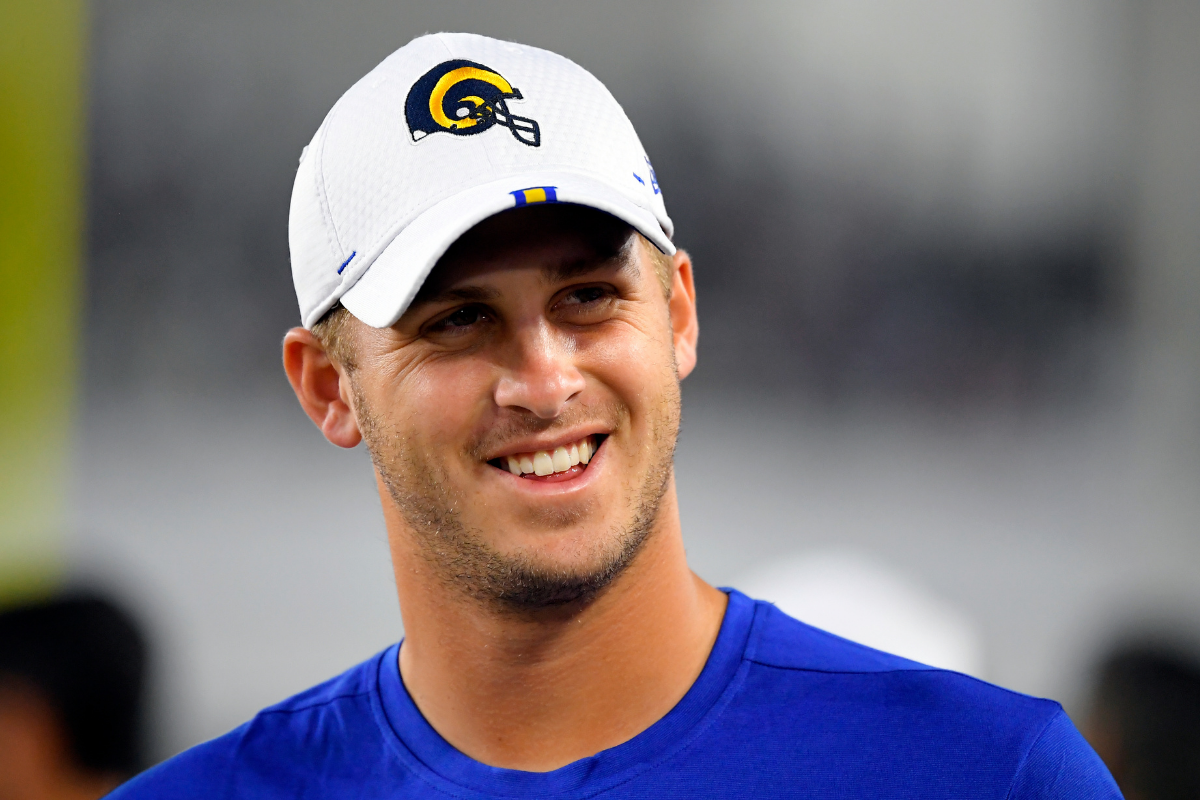 AP Photo/Mark J. Terrill
Back in 2018, before his big pay day last offseason, Jared Goff was asked during an interview with ESPN whether he could see himself raising a family in L.A. The Los Angeles Rams quarterback replied honestly, saying, "I need a girlfriend first."
Well, it didn't take too long for Goff to check that box off, as the 26-year-old landed himself a model girlfriend.
Who is Jared Goff's Model Girlfriend?
Jared Goff's girlfriend Christen Harper has been with the Los Angeles Rams quarterback for over a year, with the two having been rumored to be a couple since January 2019. Harper was in attendance during the Rams' clash with the New England Patriots in Super Bowl LIII, sporting Rams gear and cheering on her man.
The pair also appeared together at the ESPY Awards together over the summer, essentially confirming they were an item.
Prior to going public as a couple, Harper was spotted at the 2019 NFC Conference Championship game between the Rams and the Cowboys, though she didn't sit with Goff's family during the outing, according to SportsGossip.
Christen Harper's Modeling Career
RELATED: Tom Brady & Gisele Bündchen: The Power Couple's Dating History Before Marriage
Model Christen Harper has an impressive social media following, boasting over 265,000 followers on Instagram, where she frequently posts swimsuit-clad photos, as well as pics of her and the Los Angeles Rams quarterback.
She is represented by modeling agencies Wilhelmina as well as LA Models. Harper was recently trending after she revealed on her social media channels that she had auditioned for the Sports Illustrated Swimsuit edition. The 27-year-old also has a popular Facebook page, which has 3.9 million followers. Clearly, Harper is a social media superstar.  
Harper is also an aspiring actress. The 27-year-old is featured in the 2019 sci-fi film Auggie, as well as appearing in HBO's Hard Knocks and an episode of HBO's Entourage. Harper also held acting roles in films including Seven's Eleven and The Obituary of Tunde Johnson.  
According to reports, Christen Harper has amassed a net worth of $1.5 million through her ventures in modeling and acting.
Goff isn't the first athlete Christen Harper has close ties to. Harper has a brother, Shane, who played a brief stint in the NHL for the Florida Panthers. Prior to dating Jared Goff, Harper was also reported to be in a relationship with Colorado Rockies minor-leaguer Andrew Rohrbach from 2013-2015.
NFL fans in L.A. are hoping for a bounce-back season from Los Angeles Rams quarterback Jared Goff after the team missed the playoffs in 2019. Goff was sensational in 2017 and 2018, making back-to-back trips to the Pro Bowl and even leading the Rams to a Super Bowl appearance, while throwing for 60 touchdowns and almost 8,500 yards during that span.
Despite the promise he showed in his second and third year in the NFL, the former No. 1 overall pick out of the University of California took a step backwards last year, tossing 22 touchdown passes alongside a career-high 16 interceptions, guiding Sean McVay's team to an underwhelming 9-7 record.
Expectations are high for Goff in the 2020 NFL season, and the L.A. Rams are off to a strong start through the first five games of the season. With the Los Angeles Rams aiming for a return to the playoffs, and perhaps another Super Bowl appearance, and Jared Goff looking to prove he's worth the $110 million in guaranteed money the franchise handed him last offseason, the spotlight is on the 26-year-old quarterback on game days.
Unfortunately, SoFi Stadium is not allowing fans at games due to the coronavirus pandemic and COVID-19 outbreak, so Harper has been forced to watch him pick apart New York Giants and Dallas Cowboys cornerbacks from home.
Still, knowing his model girlfriend is cheering him on during game days will surely help alleviate some of the pressure facing the Los Angeles Rams quarterback in his fifth NFL season.  
LA wants an NFL title after LeBron James brought home a ring during the 2020 NBA Finals, and all eyes are on Goff to deliver. Last year was certainly a concerning campaign for Jared Goff, especially considering he had inked a fresh four-year, $134 million contract prior to the season.
While some L.A. Rams fans may have had some doubts regarding the future at quarterback in Los Angeles, one die-hard supporter has never lost faith in the 26-year-old NFL standout: Jared Goff's girlfriend Christen Harper.