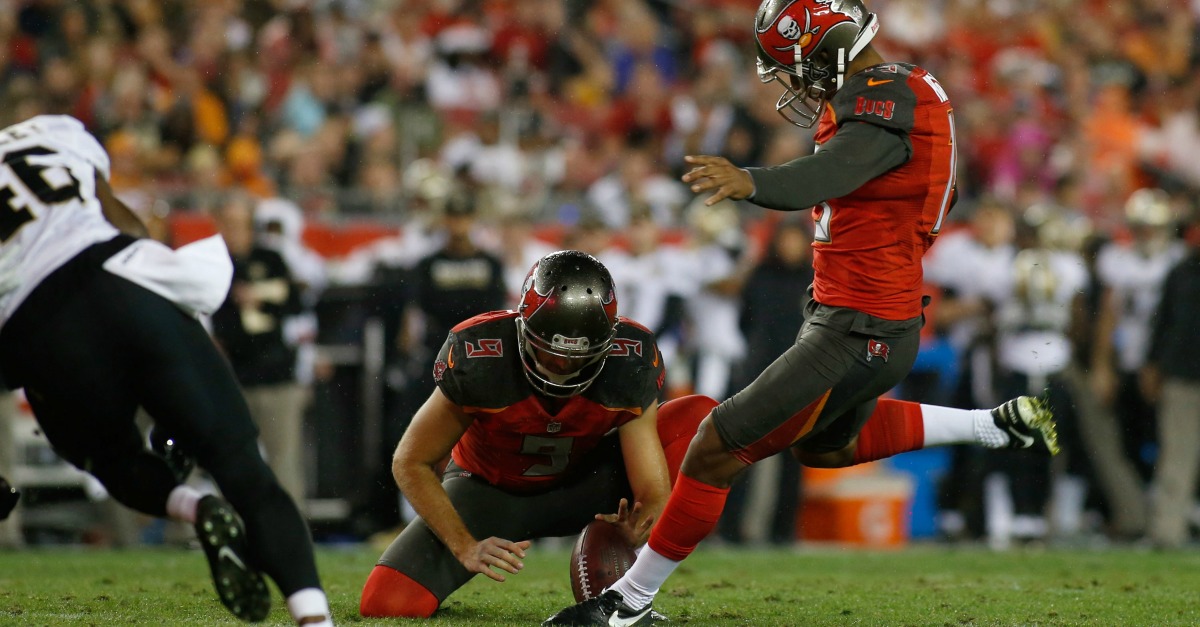 Brian Blanco/Getty Images
TAMPA, FL - DECEMBER 11: Kicker Roberto Aguayo #19 of the Tampa Bay Buccaneers gets the hold from punter Bryan Anger #9 as he kicks a 26 yard field goal during the fourth quarter of an NFL game against the New Orleans Saints on December 11, 2016 at Raymond James Stadium in Tampa, Florida. (Photo by Brian Blanco/Getty Images)
If you haven't heard by now, the Tampa Bay Buccaneers released kicker Roberto Aguayo, only one season after selecting him in the second round of the 2016 NFL Draft.
And now the team is trying to move on, having already signed a potential replacement for Aguayo.
However, it's still a difficult pill for Bucs fans to swallow. After all, Tampa Bay traded a couple of draft picks away in order to move up and select Aguayo. Now, all they're left with is the memory of all nine field goal attempts he missed last season.
At least someone is stepping up to accept responsibility, though. General manager Jason Licht spoke with Peter King of TheMMQB.com and took the blame for the whole situation.
?I?m owning up to it,? Licht said. ?I?m owning up to it by releasing him. It was a bold move, and it didn?t work out. I don?t know what else to say. I know I have the support of my coach and my ownership. At the time, I was bound and determined to get the best kicker we possibly could. I thought Roberto had the chance to be a special kicker in the league for a long time. That?s a position that had been a rough spot for us. What did I learn from this? I?ve said this before, but when we took him, we essentially anointed him. If I could do it again, I would have gone back and brought in competition to challenge him. I look back on that a lot. Roberto is a great kid, but the magnitude of that position, and the pressure on a 21-year-old ? his performance is affecting the lives of men who have families to support. That got tough.?
Aguayo was quickly claimed by the Chicago Bears, who are looking to heat up their own kicking competition.
If Aguayo ends up beating out Connor Barth for the starting job, he'll have his shot at revenge when Chicago visits Tampa Bay on Sept. 17.
[h/t Pro Football Talk]