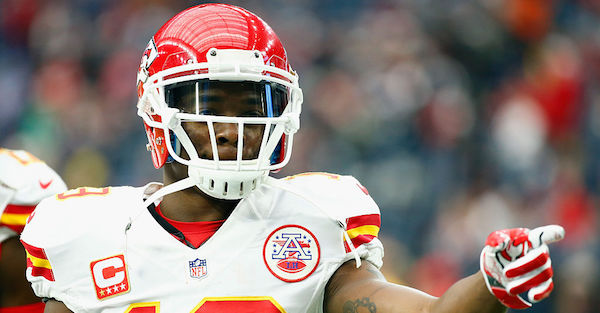 Scott Halleran/Getty Images
HOUSTON, TX - JANUARY 09: Jeremy Maclin #19 of the Kansas City Chiefs reacts before the AFC Wild Card Playoff game against the Houston Texans at NRG Stadium on January 9, 2016 in Houston, Texas. (Photo by Scott Halleran/Getty Images)
The Kansas City Chiefs made the surprising decision to release former Pro Bowl receiver Jeremy Maclin two weeks ago despite not having much depth at the position.
Maclin signed with the Baltimore Ravens shortly after being cut, but he told PFT Live that he was surprised about being released.
More shockingly, Maclin found out about being released through a voicemail from general manager John Dorsey.
"I was upset," Maclin said. "I was shocked. Apparently, they had been trying to trade me for two or three months. Which who knows if that?s true or not? I would just think that . . . a guy who is going into his ninth year would know if he?s being shopped or not. It is what it is. I still have respect for Big Red, still have respect for the organization. I?m not going to bad mouth anybody or talk any dirt on anybody. It was an unfortunate situation."
Related: Super Bowl contender makes unbelievable decision on former Pro Bowler
The Chiefs signed Maclin to a five-year, $55 million, but they decided to move on from the 29-year-old after only recording 536 receiving yards in 2016.
Maclin's decrease in output could have more to do with Alex Smith's limitations than Maclin losing a step, and the receiver said he hasn't lost a step.
When asked if the Chiefs approached him about taking a pay cut, Maclin said it wasn't a discussion between the two sides.
Maclin said he's ready to play football again, and his competitive spirit is still burning.
Finding out about being cut by a voicemail pretty brutal. Unfortunately for Maclin, the Ravens and the Chiefs don't square off in the regular season. The two teams could meet in the playoffs, though.
(h/t Pro Football Talk)