Dallas Cowboys' owner Jerry Jones has taken a hard-line stance against his players even thinking about kneeling during the national anthem, and it has been such a hard line, in fact, that the NFL may be trying to keep him from giving his true thoughts on the matter.
And sure, that's all fine and dandy because he is the owner of the Cowboys, thus he can decide to punish players for protesting during the anthem if he chooses to do so. With that said, it is a bit ironic, if not straight up hypocritical, when looking back at a complaint filed against Jones in 1989 — his first year as owner of the Cowboys.
In a 1989 letter to the editor in the Dallas Star-Telegram, a frustrated Cowboys fan had this to say about Jones, who apparently sat during the national anthem with his guest at the time, Liz Taylor:
"JEERS: To Jerry Jones and Liz Tayor, who were the only two people at last Sunday's Cowboys-Redskins game not standing while the national anthem was played. Riding out in a cart just before the anthem began was bad enough, but sitting while it was played was more than many of us could handle. Jerry, please note that in Texas, we stand for the national anthem. I hope in the future you will be courteous enough to do the same. P.S. Tom always took off his hat."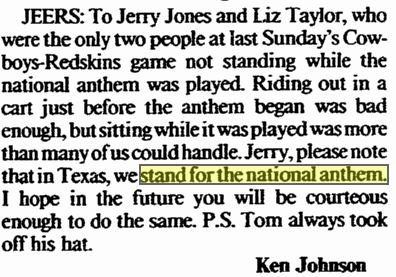 That was a letter to the editor from frustrated Cowboys fan Ken Johnson, who was certainly not happy with the Owner. First game or not, Jones must have been obvious enough to draw the jeers of this fan and those around him.
The irony is palpable when thinking of that moment and now thinking about Jones punishing any of his players who would dare take a knee in peaceful protest during the anthem, but there is another way to think about this as well.
Perhaps Jones read or got wind of this letter, and it helped inform his thoughts on proper etiquette during the national anthem — especially in Texas.
Either way, it definitely sheds an interesting context on Jones' thoughts in 2017.
(H/T TheBigLead)
Matt York/AP Photo