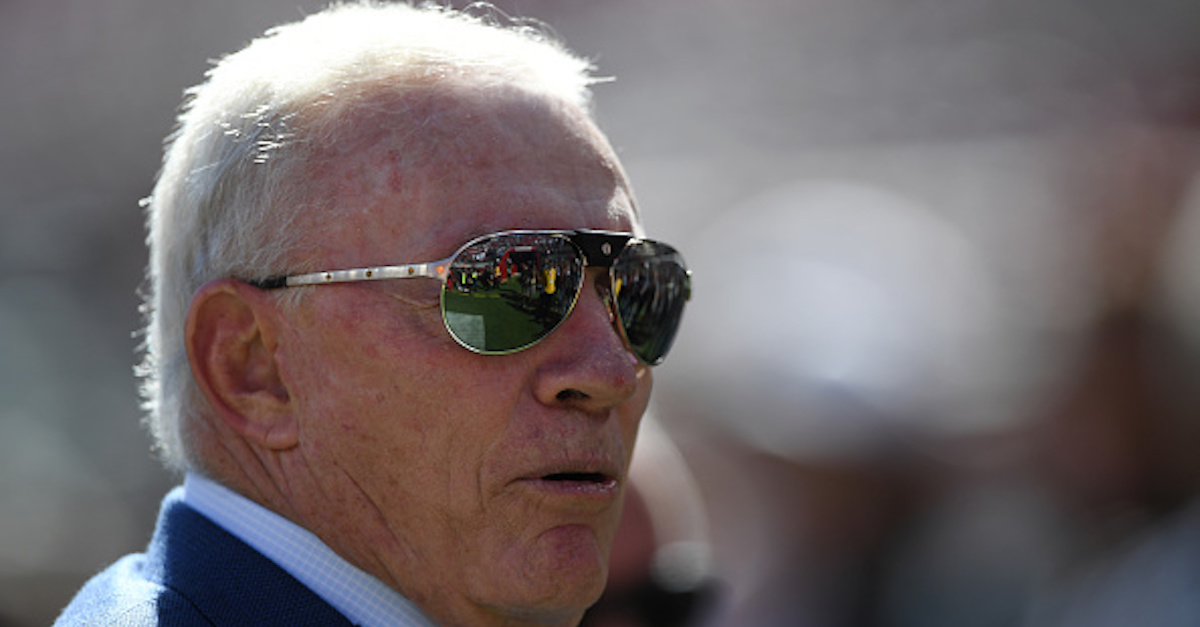 Thearon W. Henderson/Getty Images
SANTA CLARA, CA - OCTOBER 22: Dallas Cowboys owner Jerry Jones stands on the field prior to their NFL game against the San Francisco 49ers at Levi's Stadium on October 22, 2017 in Santa Clara, California. (Photo by Thearon W. Henderson/Getty Images)
Jerry Jones has been clear regarding his thoughts on national anthem protests, so it shouldn't be all that surprising that he's also come to defend the NFL owner who caused a whole round of protests this past weekend because of his insensitive — at best — comments.
Houston Texans' owner Bob McNair made comments earlier this month about protests from NFL players, and he reportedly brought up an old saying to describe his feelings, saying "We can't have the inmates running the prison."
That, of course, did not go over well and McNair nearly had a revolt from his team as a result of the comments. This past NFL weekend, almost all of his team ended up taking a knee during the national anthem and McNair did end up publically apologizing.
Still, Jones, who owns the nearby Dallas Cowboys, seems to think that the Texans' owner did not actually mean what he said when discussing the protests in the meeting. In fact, he defended McNair recently on the radio.
Here's what Jones said, as passed on by the Dallas News:
"Bob is one of the absolute most admired people, as far as the ownership, there is in the NFL," Jones said Tuesday morning on 105.3 The Fan's Shan and RJ show [KRLD-FM]. "And I know what Bob's stature is in Houston. He brought football back to Houston. It's so unfortunate that he's had this happen for him. But he's really a guy that has a lot of influence and I admire him greatly. I know that I did hear [him]. I heard him. He did not and was not talking about the players."
Logically, if McNair wasn't talking about the players in this scenario compared to ownership, how else did he mean the statement?
Jones clearly felt McNair just misspoke though, and that's something the Dallas owner suggested as well in his apology.
Ultimately, Jones actually said he feels bad for McNair:
"I just can't tell you how magnanimous he is. He's one of the really great benefactors to Houston and to anybody that's been around him. This is really unfortunate the way that it came out. He's the first to tell you that he misused words, but it's so unfortunate because he's a high-quality individual."
McNair may actually, in fact, be a high-quality individual who simply said the wrong thing at the wrong time. That doesn't make what he said any less insensitive, though, and frankly, he's lucky he didn't lose some of his players as a result.