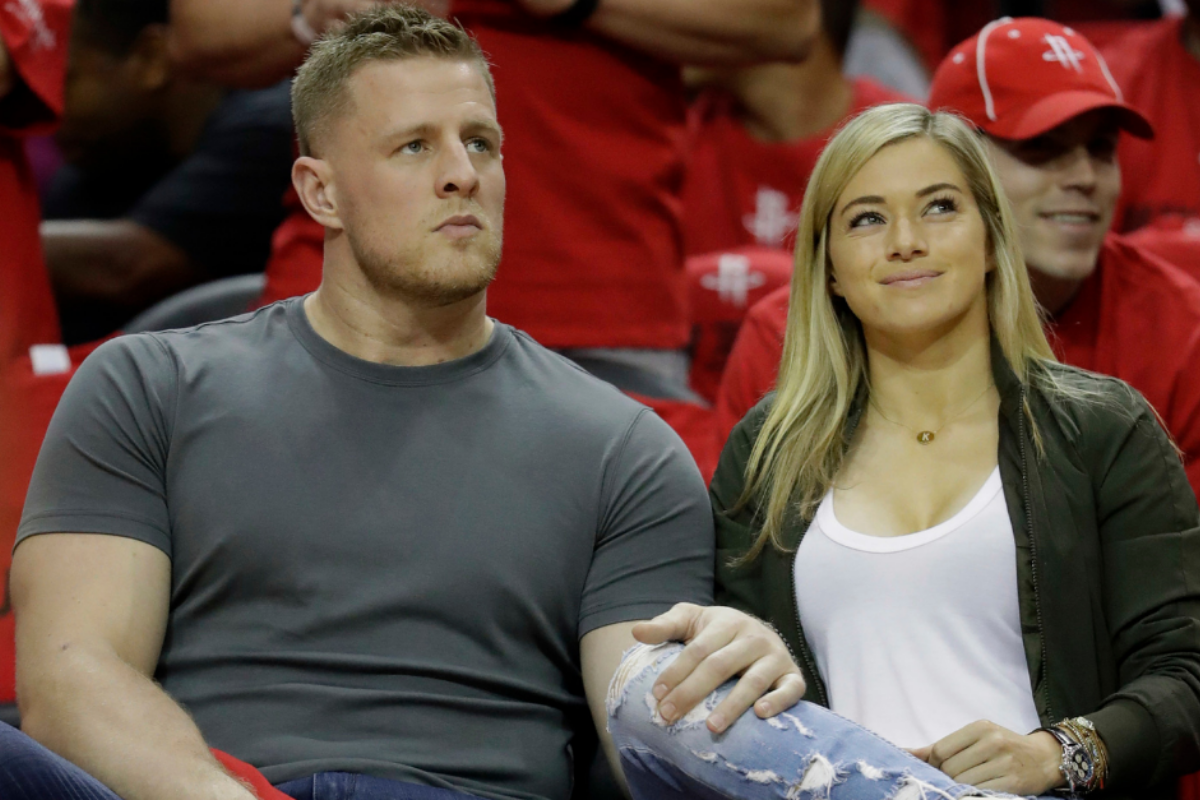 AP Photo/David J. Phillip, File
Houston Texans defensive end J.J. Watt is one of the more incredible players in the NFL. Watt is not only a three-time NFL Defensive Player of the Year and five-time Pro-Bowler, he was named the Walter Payton NFL Man of the Year after helping fundraise more than $40 million to rebuild Houston in the aftermath of Hurricane Harvey.
The 31-year-old Watt clearly has some elite genetics as well. Not only does he stand 6-foot-5 and carry 288 pounds of muscle, both of his brothers — Los Angeles Chargers' Derek Watt and Pittsburgh Steelers' T.J. Watt — also play in the NFL. Oh, and he's got some real charisma judging from his time hosting Saturday Night Live during Super Bowl weekend.
Well, ladies, I'm sorry to tell you the most eligible bachelor in the NFL is officially off the market and a married man.
J.J. Watt Wedding Pictures
NFL All-Pro J.J. Watt, a Wisconsin native, and professional soccer player Kealia Ohai , who is originally from Utah, tied the knot the day after Valentine's Day 2020 in the Bahamas. The two said "I do" at The Ocean Club, a Four Seasons Resort.
As you might've guessed, the Saturday offseason ceremony just before the coronavirus pandemic and COVID-19 outbreak looked almost as beautiful as they do.
Watt shared the pictures in a tweet with the caption, "Best day of my life. Without question."
RELATED: Who is Dallas Cowboys QB Dak Prescott?s Model Girlfriend?
Watt proposed to Ohai in May 2019 after the pair began dating in 2016. They met through former Texans linebacker and Watt's teammate Brian Cushing, who is married to Ohai's sister, Megan.
Ohai, who currently plays for the Chicago Red Stars of the National Women's Soccer League, also shared some of the stunning photos from the wedding to her social media accounts.
J.J. Watt Dances With Grandma At Wedding
We already know J.J. Watt is a stand-up guy. He's donated $10,000 to a fallen firefighter's family, puts on a charity softball game every year and honored his 101-year-old great grandmother's death in the sweetest possible way.
It turns out the Houston Texans star can bust a move, too.
Apparently he gets it from his grandma. Watt posted video of the two of them tearing up the dance floor Saturday night at his wedding party. Don't try to tell me that doesn't look like a fun high school prom.
Somebody get Dancing With The Stars on the line.
Who is J.J. Watt?s Wife?
The NFL has its fair share of power couples, and Houston Texans star J.J. Watt and wife Kealia Ohai Watt definitely slot in right next to Tom Brady and Gisele Bundchen and Zach and Julie Ertz among famous United States pairs.
But just who is Kealia Ohai?
Ohai is a pro soccer player for the Chicago Red Stars in the NWSL. She was a superstar college player for the University of North Carolina Tar Heels, with whom she won a national championship with in 2012. The NWSL's Houston Dash then selected her with the second overall pick in the 2014 NWSL College Draft.
Ohai has also played internationally. She was a member of the 2012 US Under 20 Women's National Team and won the 2012 FIFA U-20 Women's World Cup.
Soccer star Kealia Ohai shared her special day with other soccer stars as well. North Carolina Courage and USWNT player Crystal Dunn and Houston Dash player Amber Brooks were both in attendance.
Ohai's brother-in-law is former NFL linebacker Brian Cushing, who played with Watt at one point on the Texans. Ohai met her NFL star husband through Cushing, who married her sister.
After a long training camp, Watt is ready to dominate for another NFL season in 2020. Playing the Kansas City Chiefs — the team that knocked them out in a playoff matchup last year — is certainly a strong motivation, too.
So is starting a new regular season as a married man.
This post was originally published on February 17, 2020.