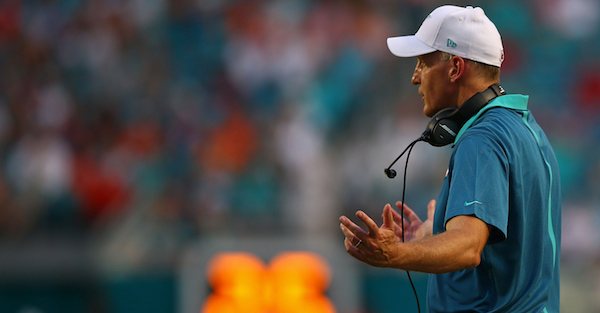 Rob Foldy/Getty Images
MIAMI GARDENS, FL - SEPTEMBER 27: Head coach Joe Philbin of the Miami Dolphins reacts during the game against the Buffalo Bills at Sun Life Stadium on September 27, 2015 in Miami Gardens, Florida. (Photo by Rob Foldy/Getty Images)
The Green Bay Packers are not accustomed to living on the sidelines during the NFL Playoffs and, while there is a built-in excuse for 2017 in the form of Aaron Rodgers' injury issues, the team isn't satisfied with its current place in the NFL pecking order. With that in mind, head coach Mike McCarthy was always expected to shake up his coaching staff and, on Saturday, word broke with one specific move that is noteworthy.
In short, long-time Packers assistant and former Dolphins head coach Joe Philbin will be coming "home" to Green Bay to work under McCarthy's leadership.
The report from Rob Demovsky of ESPN indicates that three prominent offensive assistants in Green Bay — Edgar Bennett, Luke Getsy and Alex Van Pelt — will be leaving and, while Philbin's specific title is not yet known, he will function as something of a right hand for McCarthy on the offensive side of the football. With that said, Philbin reportedly will not be calling plays, with McCarthy holding on to that duty.
Since his firing in Miami back in 2015, Philbin has been serving as an assistant head coach to Chuck Pagano with the Colts and, even if this is not the sexiest hire, he is quite familiar with both the organization and the current make-up of head coach and quarterback. That combination makes sense and, well, here we are.