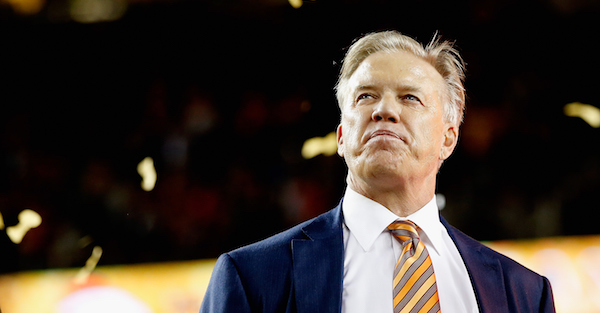 Ezra Shaw/Getty Images
SANTA CLARA, CA - FEBRUARY 07: General Manager John Elway of the Denver Broncos looks on after their win over the Carolina Panthers during Super Bowl 50 at Levi's Stadium on February 7, 2016 in Santa Clara, California. (Photo by Ezra Shaw/Getty Images)
After winning two Super Bowls as the quarterback of the Denver Broncos, John Elway has led the franchise to another Super Bowl as general manager and executive vice president of football operations.
Elway took over that role in 2011, and he has reportedly signed a new five-year contract with the Broncos through the 2021 season according to ESPN's Adam Schefter.
Related: Super Bowl contender fires their GM one week out from training camp
It's unclear how much Elway will be making per year, but Schefter reported that the new deal will make him the highest paid GM in the NFL.
Last year was the first season the Broncos failed to reach the postseason under Elway's management. The franchise has won one Super Bowl and played in another since 2011, and they have won the AFC West in five of the last six seasons.
Elway was responsible for signing free agent quarterback Peyton Manning, who helped lead the franchise to a Super Bowl victory in 2015.
The Broncos should have one of the best defenses in the league again in 2017, but the quarterback position is still a bit unstable.
Elway has proven to be one of the best general managers in the NFL during his time with the Broncos, and he will have the opportunity to build another Super Bowl contender over the next five seasons.