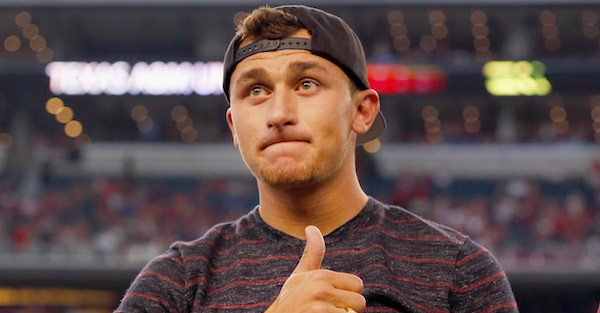 Tom Pennington/Getty Images
ARLINGTON, TX - SEPTEMBER 27: Johnny Manziel #2 of the Cleveland Browns reacts after receiving his Aggie Ring during half time of the Southwest Classic at AT&T Stadium on September 27, 2014 in Arlington, Texas. (Photo by Tom Pennington/Getty Images)
Former Heisman Trophy winning quarterback Johnny Manziel doesn't see Baker Mayfield being all that similar to him. That is, of course, despite everyone trying to connect the duo because both played college football with flair.
"Me and Baker, I feel like have a really cool friendship, and I feel like he's handling [the comparisons] the exact right way," Manziel said on the Pardon My Take podcast. "He's like, 'Listen,' and I'll say the same thing: We're completely different people. We have a similar background. We're both from Texas. We both played Texas high school football, but he's not me, and I'm not him. The way my wires are in my head and the way that I'm built and my makeup is completely different than Baker."
Johnny Football made a good, and obvious, point — people are like snowflakes. Each are different and special.
Furthermore, outside of being from Texas, their backgrounds are different and we literally just learned Manziel is going through a self-discovery process, which resulted in him finding out that he suffers from a bipolar disorder.
Makefield is expected to be a first-round pick in the upcoming NFL Draft. Experts' concerns for him, outside of his football work, is about his personality.