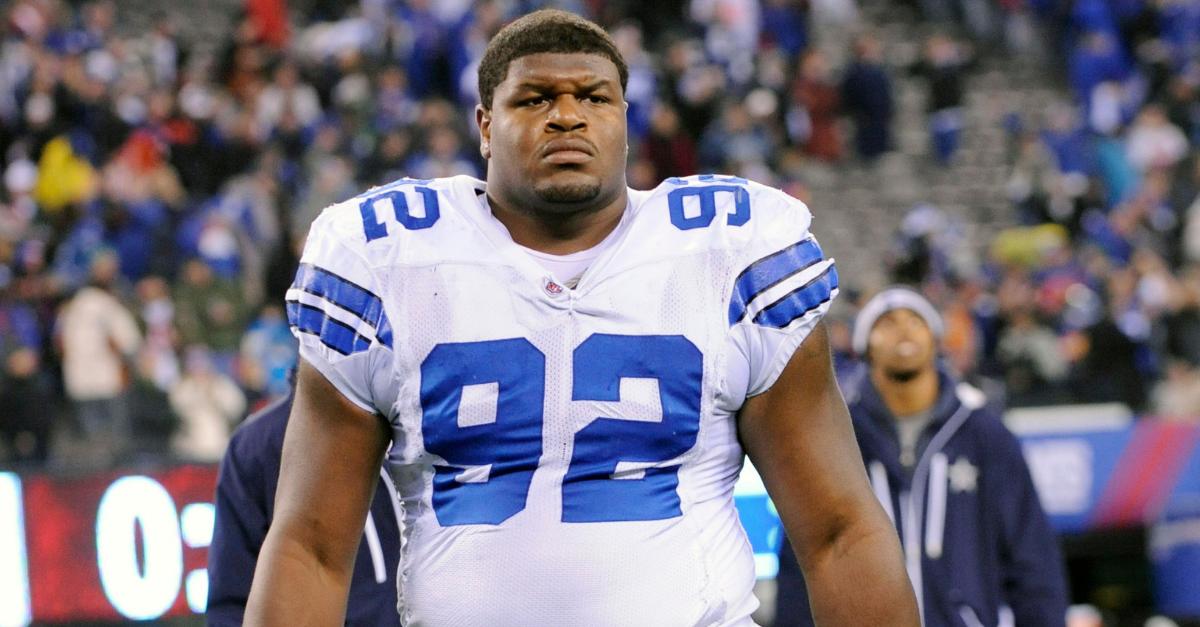 AP Photo/Bill Kostroun, File
Former Dallas Cowboys defensive tackle Josh Brent is back in the news again, and, needless to say, it's not pretty. Nothing has come easy for the 6-foot-2, 320-pounder in recent years and it got significantly scarier over the weekend in Texas.
Coppell Police were called to the Wendy's parking lot on MacArthur Boulevard for a welfare check. They discovered the 31-year-old Brent on the grass, talking to himself, and noticed he was intoxicated, according to a police statement via WFAA.
When notified he would be arrested for public intoxication, police said Brent became uncooperative and resisted to be in handcuffs. That's when Josh Brent was tased by the Coppell Police Department and charged with both public intoxication and resisting arrest and booked in the Carrolton jail.
WATCH: Ezekiel Elliott Handcuffed by Police at Las Vegas Music Festival
Unfortunately, this is not the first incident involving Josh Brent. Back in 2014, the former Cowboys player was found guilty of intoxication manslaughter after a car crash killed Cowboys teammate Jerry Brown in 2012.
According to WFAA, Brent spent 180 days in jail and sentenced to 10 years probation. Brent has been working in the Cowboys scouting department for the past several seasons.
A native of Bloomington, Illinois, Josh Brent was taken in the seventh round of the 2010 NFL Supplemental Draft. He recorded 44 tackles, including 1.5 sacks, and forced one fumble in five seasons with the Dallas Cowboys.
The officer's attempt to arrest Brent was unsuccessful initially and had to use a taser. That's definitely a scary situation and the video evidence definitely shows something was not right.
Now, everyone just hopes the former Cowboys DT can get the help he needs to get back on the right track.