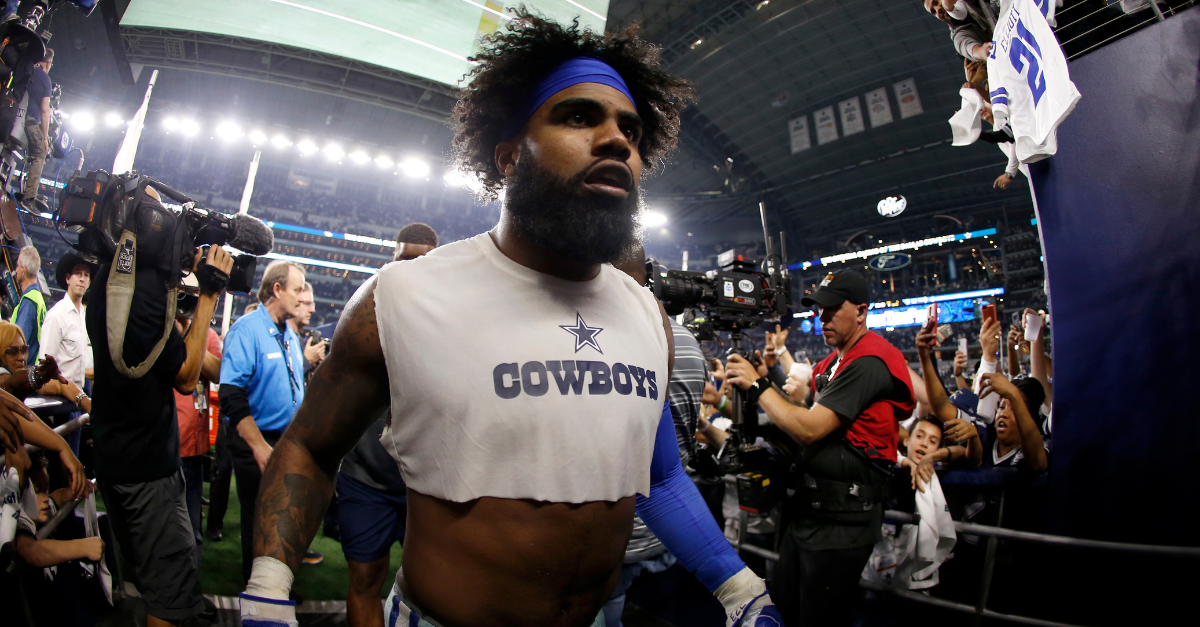 AP Photo/Ron Jenkins
The NFL offseason gives players some much-needed downtime to cut loose before summer workouts and training camp begin. For some, like Pittsburgh quarterback Ben Roethlisberger, that means taking his teammates out for a day on the lake. For others, like Dallas Cowboys running back Ezekiel Elliott, taking in some live music with a bunch of raving 20-somethings in Las Vegas is the perfect way to unwind.
But do you know that saying about nothing good happening after 2 a.m.? I don't know if Zeke realized that music festivals like this last from sun-up to sun-down because he found himself in some unnecessary trouble way past his bed time.
At around 3 a.m. on Saturday, May 18, Elliott was seen in a verbal disagreement with his apparent girlfriend on the way out of the event. TMZ Sports obtained video of the confrontation in which you can see the two-time Pro Bowl selection using his body to slow the woman down while heading for the parking lot. Elliott never puts his hands on her, nor does he appear overly aggressive in any way.
But when event security intervened, an event staffer appears to say something that ticks Elliott off. The 230-pound running back comes chest to chest with the much smaller man, forces him backwards into a metal gate, then uses a soft forearm to knock the security guard over like a domino.
Elliott was handcuffed by Las Vegas Metro Police Department officers and was led away from the scene as the video ends.
RELATED: Ezekiel Elliott Got a Tattoo of Ezekiel Elliott Because Why Not?
Frank Salzano, Elliott's attorney, told TMZ Sports that his client was the victim of event security who "overreacted to the situation."
"Elliott was cuffed as a precautionary measure. He was released with no charges," Salzano said. "He left Vegas that night and went to his [youth football camp in Dallas] on Sunday."
The problem is that Elliott was suspended six games during the 2017 season for violating the NFL's personal conduct policy. Although he was never formerly charged, Elliott's being accused of domestic violence by an ex-girlfriend was enough for commissioner Roger Goodell to bring down the suspension. He's already in the dog house with the league, and this latest incident could once again fall under that policy.
There's little chance a suspension from this would be upheld after an appeal, but it's not a good time to be getting handcuffed at 3 a.m. when a massive contract extension looms for the two-time All-Pro.
Artists like Steve Aoki, Diplo and A$AP Rocky invaded Las Vegas for the three-day Electric Daisy Carnival from May 17-19. According to multiple reports, there were 35 people arrested on felony charges and a few dozen more were removed from the event over the first two days of the Las Vegas music festival.
It's fair to say that Elliott's minor scuffle was the least of the EDC Music Festival staff's worries.
UPDATE: After meeting with Roger Goodell on July 2, Ezekiel Elliott released the following statement:
Earlier today, I met with the Commissioner to share with him what occurred in Las Vegas and what I have learned from that incident.

I've worked hard to make better decisions and to live up to the high standards that are expected of me.

I failed to do that here and I made a poor decision.

I apologized to Kyle Johnson at the time and I meant it.

I need to work harder to ensure I do not put myself in compromised situations in the future. I am rededicating myself to use all of the resources that the league has made available. But in the end, it is up to me and I am determined not to be in this position again.

-Zeke
No official word from the league offices was released after Elliott posted this message to his personal Twitter account, though it appears like a suspension will be unlikely at this point.