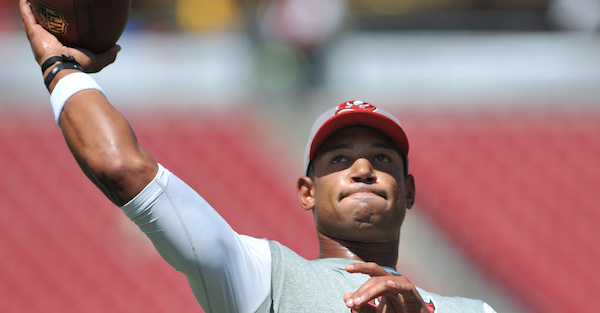 Al Messerschmidt/Getty Images
TAMPA, FL - SEPTEMBER 15: Quarterback Josh Freeman #5 of the Tampa Bay Buccaneers warms up for play against the New Orleans Saints September 15, 2013 at Raymond James Stadium in Tampa, Florida. The Saints won 16 - 14. (Photo by Al Messerschmidt/Getty Images)
It seems like a lifetime ago when Josh Freeman was considered to be an up-and-coming NFL quarterback. The No. 17 overall pick in the 2009 NFL Draft appeared in nine games as a rookie for the Tampa Bay Buccaneers but, in year two, Freeman really emerged to the tune of 25 touchdown passes against just six interceptions while leading the team to a 10-6 record. From there, though, things went south for Freeman and he has been out of football entirely for the past two years.
On Friday, though, word broke that he will be giving it another go and, this time, Freeman will be playing for the Montreal Alouettes in the CFL.
Freeman's last NFL appearance came with the Indianapolis Colts in 2015 but he is only 30 years old (as of his birthday on Jan. 13) and there is still plenty of talent in his arm. Over a seven-year sample with the Bucs, Vikings and Colts, Freeman completed 58 percent of his passes for 81 touchdowns and 68 interceptions and, while his path to being an NFL starter may not be clear at this point, he has an opportunity to shine in the CFL which should be interesting to monitor.
Given the presence of Johnny Manziel in the league, Freeman won't be the most prominent former first round pick in the CFL this season, but he'll be there nonetheless.