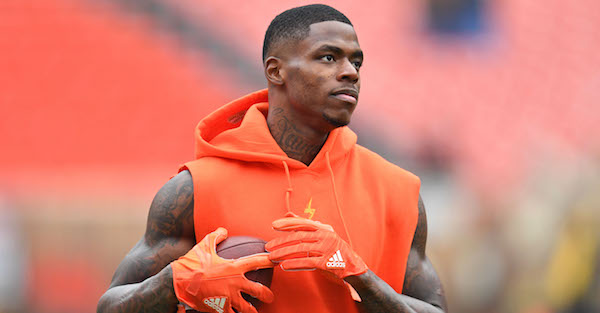 Jason Miller/Getty Images
CLEVELAND, OH - DECEMBER 17: Josh Gordon #12 of the Cleveland Browns warms up before the game against the Baltimore Ravens at FirstEnergy Stadium on December 17, 2017 in Cleveland, Ohio. (Photo by Jason Miller/Getty Images)
Cleveland Browns wide receiver Josh Gordon made his return to the NFL last season, and he started five games for the team after missing two years for a suspension related to substance abuse.
Gordon's contract expired after the 2017 season, so he's technically a free agent. But ESPN's Dan Graziano reported that Gordon is labeled as an "exclusive rights free agent," which means he's technically not a free agent.
Confused? Us, too.
Related: Four-time Super Bowl champion reportedly re-ups with one team to break NFL record
So, basically Gordon didn't play enough games in 2017, so he's listed as an exclusive rights free agent. As a result, he won't be allowed to negotiate with other teams.
Gordon will either be a Brown next season, or he won't be in the league.
The NFL should rename it since players can't re-sign with other teams if they are exclusive rights free agents.
Gordon caught 18 passes for 335 yards and a touchdown in five games last season. He had a breakout year his second season in the league as he caught 87 passes for 1,646 yards and nine touchdowns despite missing two games for suspension.
If Gordon can stay out of trouble and continue to produce at a high level, he will be highly sought after once he becomes an unrestricted free agent. He's only 26, and he's proven he is one of the most talented receivers in the league when he's on the field.