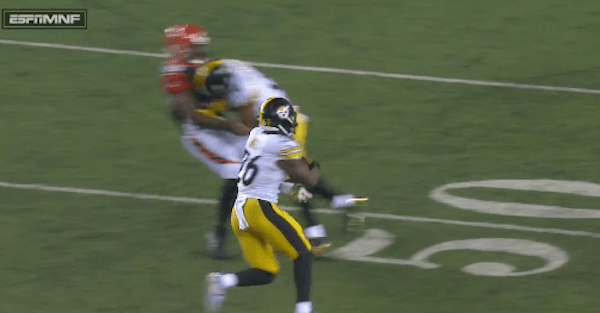 Clippit screenshot
The NFL has announced that Pittsburgh Steelers wide receiver JuJu Smith-Schuster and Cincinnati Bengals safety George Iloka have each been suspended one game for violations of safety-related playing rules.
In what turned out to be a game riddled with injuries and illegal hits, Smith-Schuster picked up his suspension after making unnecessary contact against a player who was in a defenseless posture, according to the release. Smith-Schuster lined up a defender and delivered a violent and unnecessary blindside shot to the head of Vontaze Burfict. He was then seen taunting Burfict after the hit.
Iloka received his suspension after delivering a shot to the head and neck area of Antonio Brown. The league said in the statement that he violated the rule which prohibits hitting a defenseless player's head or neck area with the helmet, facemask, forearm or shoulder.
Speculation began Tuesday morning if the two players would receive suspensions for their actions and the league decided to sit each player down for one game. As the league continues in an attempt to clean up the sport, hits like these won't be tolerated and the league will continue to take a stand.