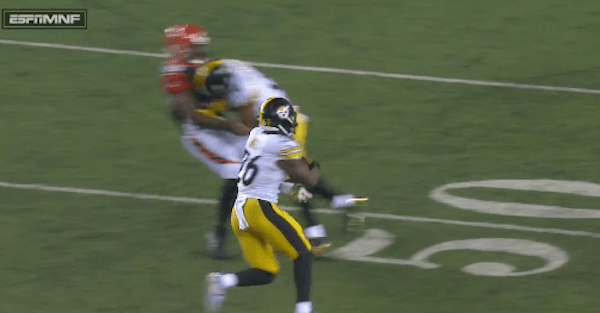 Clippit screenshot
The Pittsburgh Steelers don't like Vontaze Burfict. Burfict doesn't like the Steelers.
On Monday night, all of that came to a head.
Rookie wide receiver JuJu Smith-Schuster introduced himself to the Cincinnati Bengals-Steelers rivalry with a nasty, dirty crackback block on Burfict. He proceeded to stand over the fallen linebacker, who was then carted off the field with a concussion.
The Steelers would go on to score on that drive, and eventually notch a game-winning field goal as time expired.
To make matters worse, in the locker room after the game, teammate Antonio Brown showed no sympathy for the injured foe:
A brutal hit from Burfict knocked Antonio Brown out of the Bengals-Steelers playoff game last season, and the linebacker is standing by an earlier claim from teammate Pacman Jones that he faked it.
Here's what he said via ESPN The Magazine:
"He faked that… I feel like he looked at me. The ball tipped off his hands and he kind of put his head towards my area, and I tried to fade off of him at the last second, but he initially tried to make contact because he knew he could get the flag. And just the way he went down, it was just like — I don't know man."
Jones noted Brown winked at him on the way off the field after the crushing blow from Burfict.
Burfict was handed a 15-yard penalty for his hit on Brown and Jones received a 15-yard penalty after shoving Steelers coach Joey Porter. That set up a game-winning field goal.
All of this would be all fine and well if, you know, Brown wasn't diagnosed with a concussion which forced him out of the following week's playoff game against the Denver Broncos (a loss, 23-16) that sent them home and Peyton Manning's team to the AFC Championship game.
Burfict should do the right thing, take a step back and apologize like Jones did.
That likely won't be the case.
For his actions, Steelers players have chimed in on Burfict's standing as a dirty player, with Le'Veon Bell going as far as saying, "dude gotta go."
Burfict?s reputation is one of being perhaps the dirtiest player in the NFL and incidents like this one certainly will not take away from that sentiment. Still, it is another thing entirely to have a top-tier player like Bell take him to task in public.