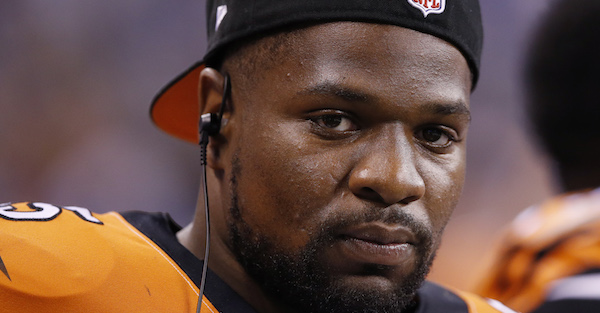 Joe Robbins/Getty Images
INDIANAPOLIS, IN - AUGUST 31: Vontaze Burfict #55 of the Cincinnati Bengals looks on from the sideline in the second half of a preseason game against the Indianapolis Colts at Lucas Oil Stadium on August 31, 2017 in Indianapolis, Indiana. (Photo by Joe Robbins/Getty Images)
NFL player are all members of the same fraternity and, most of the time, athletes have each other's backs no matter the differences within the white lines on Sunday afternoons. However, in the case of Cincinnati Bengals linebacker Vontaze Burfict, that no longer appears to be the case.
Burfict got away with a kick to the head of a Pittsburgh Steelers player on Sunday afternoon and, in short, it wasn't the first (or even third) time that he was involved in very dirty play on the field.
In response to this particular incident with Burfict, two-time Pro Bowl running back Le'Veon Bell hopped on Twitter to make his feelings known, including the fact that Burfict's play was "not football."
Bell wasn't done there, taking the league itself to task for allowing Burfict's actions to continue and indicating his belief that his teammate would have been punished for reacting in kind.
Burfict's reputation is one of being perhaps the dirtiest player in the NFL and incidents like this one certainly will not take away from that sentiment. Still, it is another thing entirely to have a top-tier player like Bell take him to task in public and the response will be quite interesting.