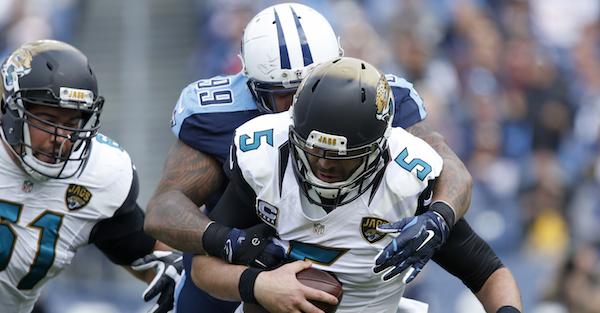 Wesley Hitt/Getty Images
NASHVILLE, TN - DECEMBER 6: Jurrell Casey #99 of the Tennessee Titans sacks Blake Bortles #5 of the Jacksonville Jaguars during the game at Nissan Stadium on December 6, 2015 in Nashville, Tennessee. (Photo by Wesley Hitt/Getty Images)
The Tennessee Titans earned a playoff berth after they defeated the Jacksonville Jaguars for the second time this season, and both AFC South rivals will play in the postseason.
The Titans travel to take on the Kansas City Chiefs, while the Jaguars host the Buffalo Bills. Titans defensive lineman Jurrell Casey said on Nashville's 104.5 The Zone that he doesn't believe the Jaguars will last long in the playoffs because he doesn't believe in quarterback Blake Bortles.
"As long as Bortles is back there, if the ball game is in his hands, he's going to choke," Casey said via Pro Football Talk.
The Jags are in the playoffs for the first time in 10 years, and their defense has led the way for most of the season as they won the AFC South. Bortles completed 60-percent of his passes while throwing for 3,687 yards, 21 touchdowns and 13 interceptions on the year, but his accuracy and decision-making are still concerns as the team heads into the playoffs.
Related: NFL coach thought to be on his last legs shockingly ends up with a new contract
Bortles threw two picks against the Titans last Sunday in a 15-10 loss, though the game didn't have an impact on Jacksonville's seeding in the playoffs. He also threw two interceptions during the first meeting between the two rivals, which was a 37-16 Tennessee win.
Casey said he wasn't impressed by any part of Jacksonville's offense this season.
"We didn't want their offense to score at all, and it looks like that's what happened," Casey said. "It looks like that's what happened. Sorry. At the beginning of the week, I was talking about that. King of the South? King of the South? Sounds great, but got to be able to beat us. Jacksonville didn't play great today. Appreciate the turnovers. Helped us out a lot."
Casey said on Twitter that he was just hyping up his defense, but his comments on Bortles certainly seem more personal than that.
Unfortunately, these two teams likely won't meet again until next season unless they can make the AFC Championship Game, but Bortles and the Jaguars will definitely remember Casey's comments when they play again.
(h/t Bleacher Report)