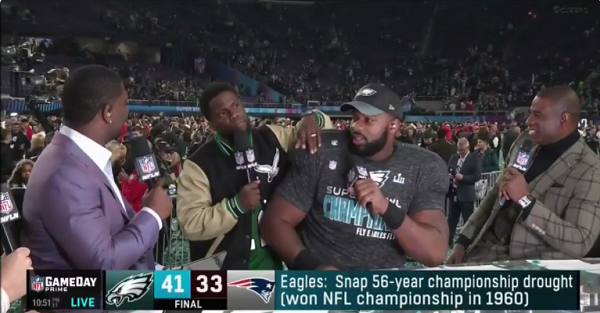 @KicksDeals/Twitter
@KicksDeals/Twitter
World renowned comedian Kevin Hart is a huge Philadelphia Eagles fan and he made his fandom known even more after his team beat the New England Patriots in Super Bowl LII. He couldn't get up on the podium with the team so he did the next best thing by crashing NFL Network's live post-game show where they were interviewing Eagles defensive lineman Fletcher Cox.
It would have all been fine and dandy, but he happened to drop the f-bomb with the crew and quickly realized his mistake:
Fortunately, he left right after and didn't cause any more damage. Deion Sanders seemed to enjoy it too, but LaDainian Tomlinson was not having it. He was definitely trying to keep it professional and Hart is always going to make that tough both because he's hilarious, but also because he was drunk as he had mentioned earlier in the interview.