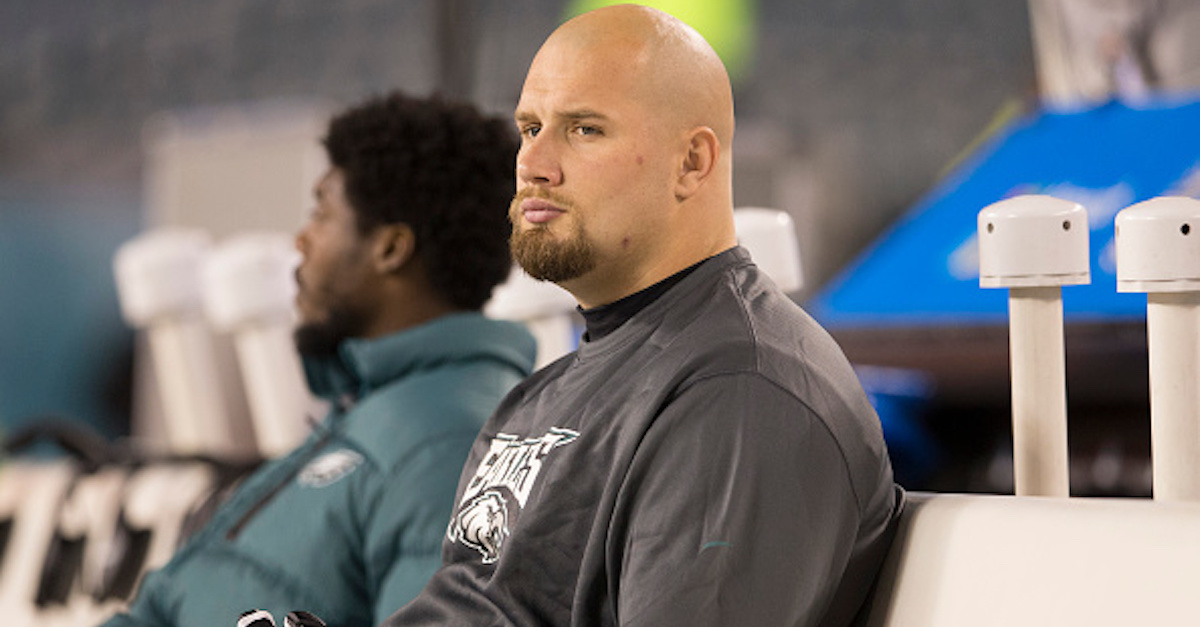 Mitchell Leff/Getty Images)
PHILADELPHIA, PA - DECEMBER 26: Lane Johnson #65 of the Philadelphia Eagles sits on the bench prior to the game against the Washington Redskins on December 26, 2015 at Lincoln Financial Field in Philadelphia, Pennsylvania. (Photo by Mitchell Leff/Getty Images)
Philadelphia Eagles offensive lineman Lane Johnson doubled down on his criticism of the "Patriot Way."
The recent Super Bowl champion returned to Barstool Sports' Pardon My Take podcast to reiterate his comments made last week in which he called the New England Patriots a "fear-based organization" and said he would "much rather have fun and win a Super Bowl than be miserable and win five Super Bowls."
"Here's the whole deal," Johnson told hosts Dan "Big Cat" Katz and PFT Commenter. "I think a lot of guys just want to be happy playing football…The Patriots obviously won five Super Bowls, so it's the Patriot Way to win the Super Bowl. Does that mean that everybody has to act the same way? Do the same thing? Is that necessarily the guidelines to win the Super Bowl?"
"I just pissed in everybody's Cheerios," Johnson added. "And everybody in Boston — hey, I've got hate mail I still haven't read. I'm looking forward to reading it."
Last week, Johnson told the hosts that he'd prefer to win one Super Bowl in the fashion that he did with the Eagles, rather than match the success of New England in the franchise's "robotic" fashion.
The lineman's comments have drawn criticism from Patriots fans, media members and former players, including linebacker Tedy Bruschi, who defended the "Patriot Way" process in response to the comments during an appearance on ESPN's First Take earlier this week.
"They kept interviewing ex-Patriots players," Johnson said. " What do you think they're going to say? 'I (expletive) hated it there?' No. 'I won Super Bowls. We had a great time.' They're not going to bad-mouth their coach. They're not going to say what they really want to say. Do you think that's going to happen? Hell no, it's not going to happen."
You can listen to Johnson's latest appearance on Pardon My Take here.