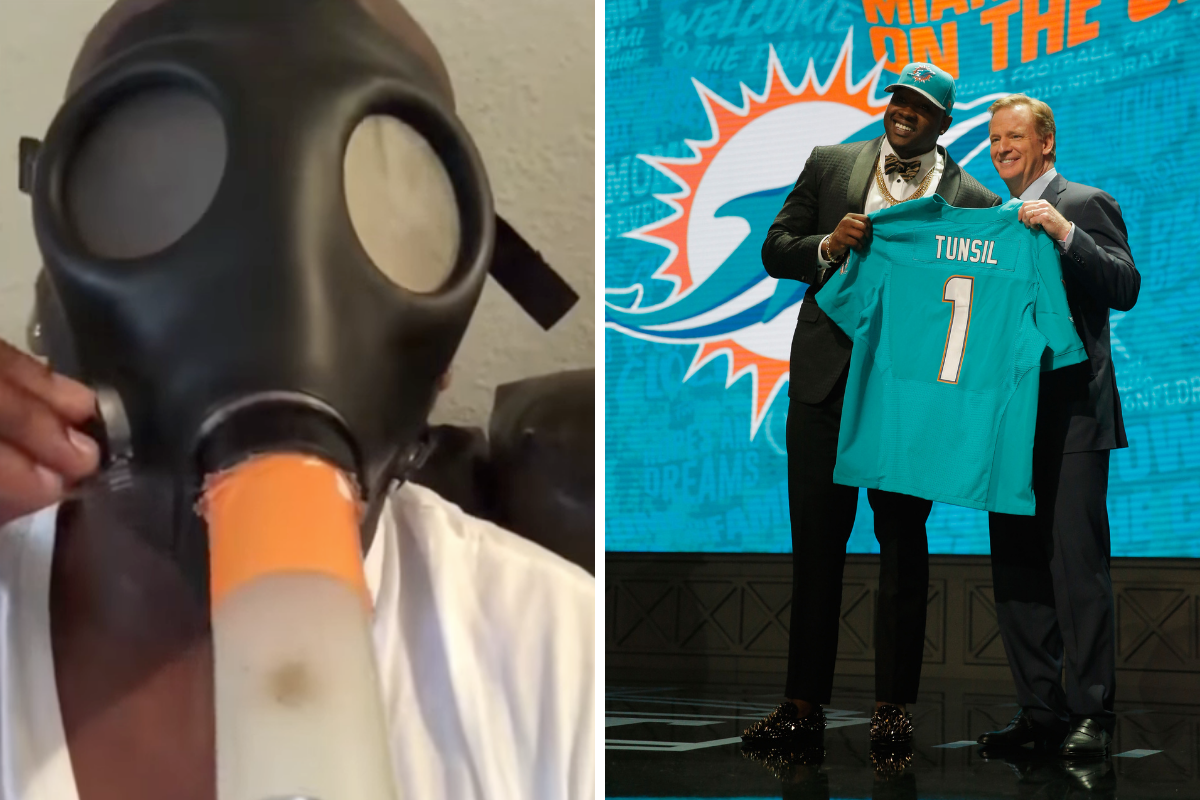 Screenshot from YouTube (left),Jon Durr/Getty Images (right)
NFL teams are prone to ask the essential questions at the Draft Combine. Things like "Do you find your mother attractive?", "What is Isis?", "Do you like tall women?" and "Is God an Auburn fan?" are critical when evaluating a potential draftee.
However, there's a question when answered correctly that can set draftees apart from the pack.
"What is your preferred method for smoking weed?"
Ole Miss offensive tackle Laremy Tunsil waited until minutes before the 2016 NFL Draft to give his response.
Laremy Tunsil's Gas Mask Bong Tweet Before the 2016 NFL Draft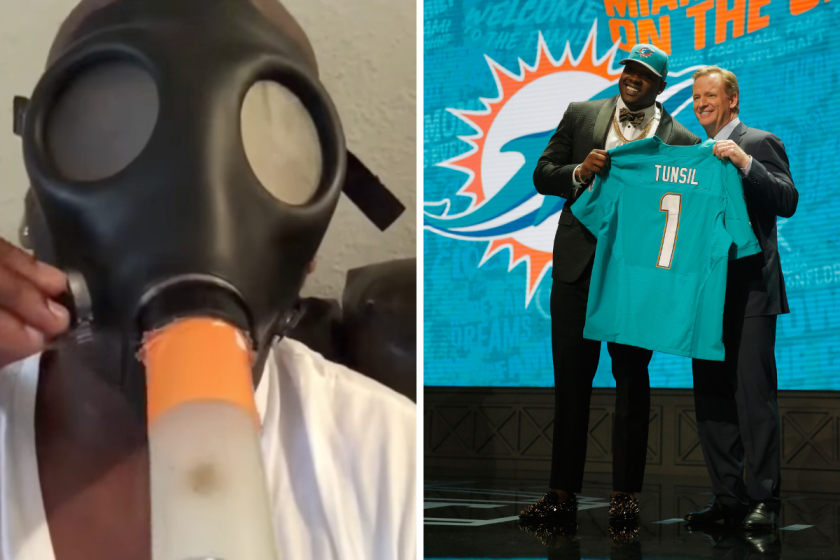 RELATED: 10 NFL Draft "Expert" Opinions That Were So Wrong It Hurts
Tunsil was a three-time All-SEC member with a 6-foot-5, 310-pound frame who specialized in protecting the quarterback. His body of work and excellent combine performance made him the one of the top prospects in the class heading into draft night.
That is, until minutes before the draft when a video of Tunsil smoking marijuana through a gas mask was tweeted from his account.
The tweet went viral on social media and Tunsil along with his agent rushed to tell the world his account was hacked, but the damage was already done. He plummeted down draft boards and teams like the Baltimore Ravens and Tennessee Titans in the top 10 who needed an offensive lineman passed over him.
The Miami Dolphins unexpectedly found themselves in position to take the draft's top tackle with the 13th overall pick and jumped on the opportunity.
Tunsil later addressed the incident.
"Man, it was a mistake," he said at that time, per ESPN. "You know, [the video] happened years ago. Like I said before, somebody hacked my Twitter account. That's how it got on there, man. It's just a crazy world — things happen for a reason."
Tunsil spent three seasons in Miami before the Dolphins dealt him to the Houston Texans before the 2019 season. The mishap reportedly cost Tunsil $7 million.
Laremy Tunsil Mints Gas Mask Bong Video into NFT
On the Wednesday morning before the 2022 NFL Draft, Tunsil tweeted that he's minting a single non-fungible token (NFT) of the video and donating a portion of the proceeds to the Last Prisoner Project — a nonprofit that supports those incarcerated for cannabis.
"For the past 6 years, I've been asked about this moment," he said. "The gas mask. I've spent 6 years trying to do rather than say – on the field and off the field. Fall 2021 I spoke with @complex for the first time about this moment and today, the day before #draftday."
"I'm officially moving on and putting this moment in the past," he continued. "I'm minting a 1 of 1 NFT of the infamous gas mask video to be listed. A portion of the proceeds will benefit @lastprisonerprj which supports those incarcerated for cannabis offenses."
The NFT is the final step in Tunsil moving on from the gas mask incident. He's come to terms with it, as evidenced by his conversation with Complex in November 2021.
"I don't want the past to have any control over me," says Tunsil. "I'm in a better place, I'm in a better mindset, and, bro, I'm really done with that. And that's why I'm talking about the situation, because clearly I'm over that."
The gas mask cost Tunsil some cash, but it also cost several times a two-time Pro Bowler. Seeing how he's performed thus far in his career, I expect he'll return to the Pro Bowl, too.
Related Videos