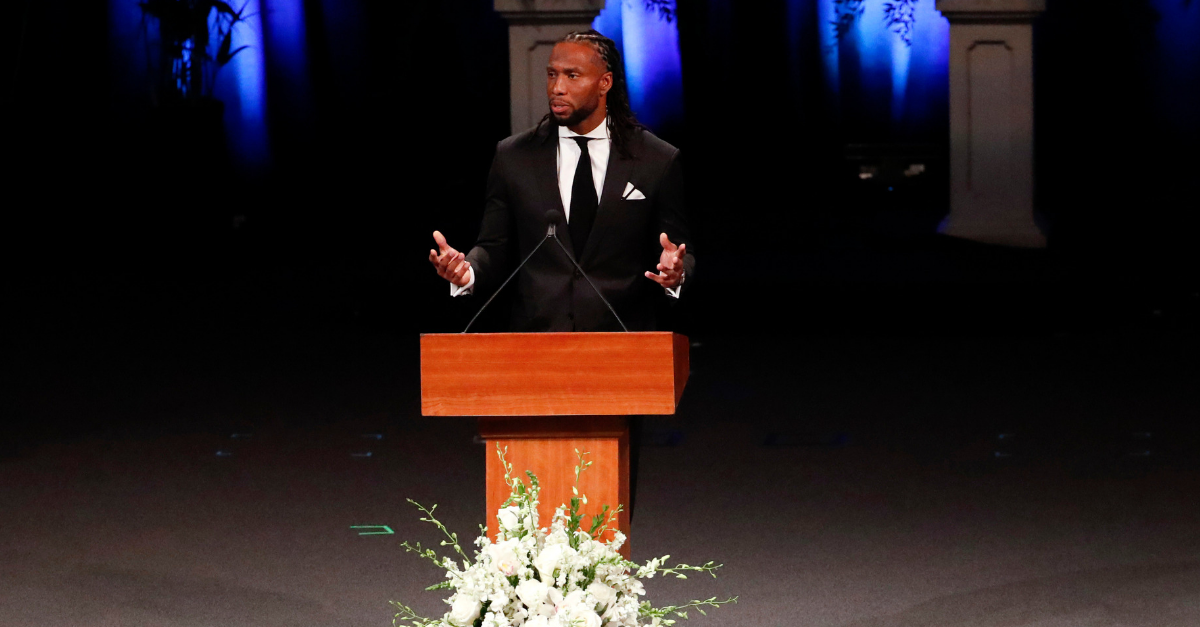 AP Photo/Matt York, Pool
No matter your feelings toward the current state of the NFL, from its safety to anthem protests, it?s nearly impossible not to love Larry Fitzgerald. The Arizona Cardinals star wide receiver is as real as it gets, a genuine leader in the community, and his latest act of kindness is incredibly special.
Less than a month after reading a tribute at the funeral of Senator John McCain, his longtime friend, Fitzgerald helped pick up the tab at a family-owned Scottsdale deli to support the owner, who has terminal cancer.
This past Tuesday, from 12 p.m. to 5 p.m., Fitzgerald paid for every single tab at Casella?s Italian Delicatessen and collected donations for deli owner Joe Casella, his wife, Tina Casella, and their family.
Casella?s Italian Delicatessen has been opened since 1977, and the 79-year old Joe Casella is facing terminal cancer. Fitzgerald is leading the community to rally around the family.
?I want to support Joe, his legacy and his family and I hope those that come in Tuesday will do the same by donating to support this man, his family and what they have and continue to represent,? Arizona Cardinals Wide Receiver Larry Fitzgerald, per KTAR
What a class act.
There were plenty of people who showed up to the restaurant, too.
Cardinals teammates Christian Kirk and D.J. Foster, who went to nearby Saguaro High School, were expected to attend the event on Granite Reef Road.
Since being drafted No. 3 overall by the Arizona Cardinals in the 2004 NFL Draft, the University of Pittsburgh alum and unanimous All-American has been the face of the franchise at the University of Phoenix Stadium and a leader in the community. He was named the Walter Payton NFL Man of the Year in 2016.
Fitzgerald, an 11-time Pro Bowl selection, has 1,244 receptions for 15,649 yards and 110 touchdowns during his career.
It?s hard telling how long the 35-year-old will keep playing in the NFL, but his impact in the local area, such as picking up a local deli tab and providing free meals and free food for the public to support the Casella family, is a legacy that will continue long after his playing days and something people will never forget.