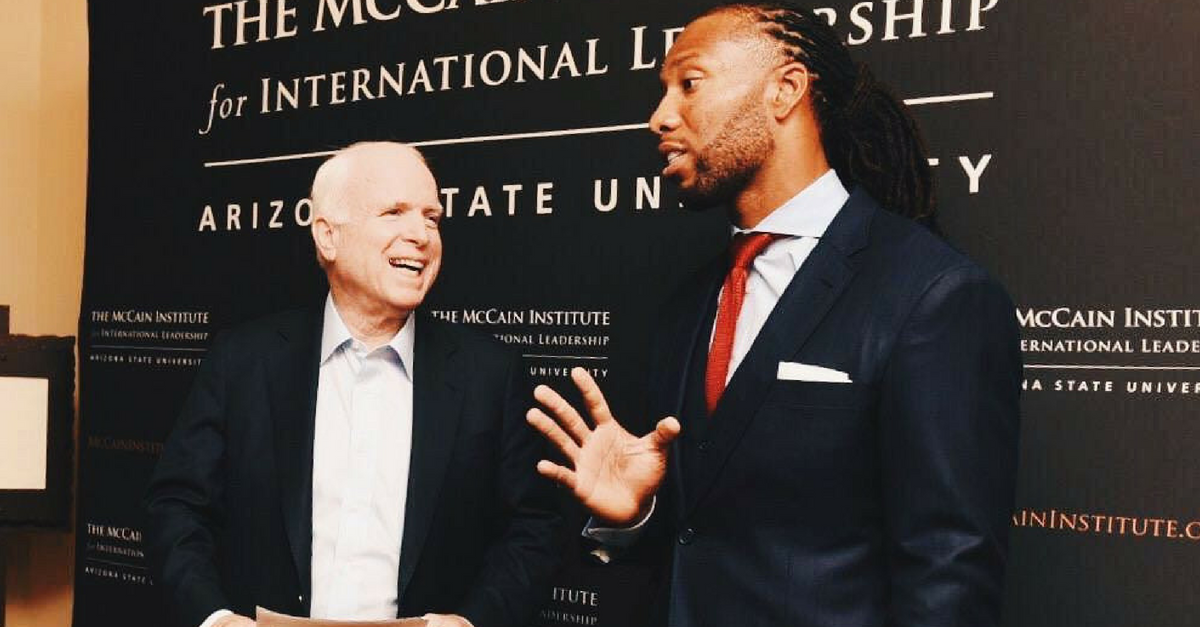 Instagram: @larryfitzgerald
Instagram: @larryfitzgerald
Arizona Cardinals wide receiver Larry Fitzgerald is one of the NFL's greatest ambassadors for life outside of the game. The 2016 Walter Payton NFL Man of the Year is known for his generosity off the field, including making five USO tours to visit soldiers overseas and raising money to help injured members of the U.S. military.
Fitzgerald, who has played his entire professional career in Arizona, became close friends with Arizona Senator John McCain, who passed away at 81-years-old after a long battle with brain cancer. The 11-time Pro Bowl selection will speak at McCain's funeral on Thursday.
"It's truly one of the greatest honors of my life to be able to talk about somebody who served his country so passionately and had been so dedicated to policies of this nation," Fitzgerald said. "So, I was really taken aback by it."
This won't be the first time Larry Fitzgerald has spoken in support of the former United States Navy captain. In an article written for Sports Illustrated last Christmas, Fitzgerald honored a man who spent six Christmases as a prisoner of war in Vietnam.
"The most meaningful part of the trip was seeing the spots related to Senator McCain?s experience. I went to the lake where he was shot down and I learned about how he was captured. On Oct. 26, 1967, he was flying his 23rd mission as a Navy pilot, set to drop bombs on a site in Hanoi. The North Vietnamese fired a missile at his plane and hit one of the wings. When Senator McCain was hit, the plane went into a spin and was going to crash. He bailed out, and went crashing into Truc Bach Lake just outside of Hanoi. His left arm was broken. His right arm was broken in three places. His right leg was broken. He was in such pain when he fell into the lake that he almost drowned. He had to inflate his life vest with his teeth because he couldn?t use his arms."

Fitzgerald ended the article with this:

"Today, my friend, Senator John McCain, again finds himself in a battle. This time it?s with cancer, and the treatment he?s undergoing is exhausting. I?ll wish him a Merry Christmas today, and I pray he lives another 20 years. I know this: As soon as my boys are of age, I?ll tell them stories about the quality of the man I?ve gotten to know. I?ll tell them: Senator John McCain will be revered and respected for as long as the United States of America has a place in this world, and his legacy will outlive us all.

"My prayers are with you, my friend."
Fellow Arizona sports icons Shane Doan, who played for the Phoenix Coyotes, as well as former Arizona Diamondbacks outfielder Luis Gonzalez, who hit the game-winning single to win the 2001 World Series, will serve as pallbearers for the late Senator McCain.
In addition, former Vice President Joe Biden will be among those speaking along with two of McCain's children, Andrew and Bridget.
Fitzgerald posted a heartfelt message to Twitter following McCain's death, which honored the senator's wife Cindy McCain and "the beautiful McCain family."
The memorial service will be held at the North Phoenix Baptist Church Thursday morning at 10 a.m. Pacific Time.